A Timeline of Dedication and Innovation
There is no greater explanation why we are celebrating 100 years in business than the sheer determination of our forefathers. Their ability to think outside the box and adapt to changing times has rewarded our business and our community with a strong, established family-owned business that's poised to conquer another 100 years in the wood products industry.

1920s

1930s

1940s

1950s

1960s

1970s

1980s

1990s

2000s

2010s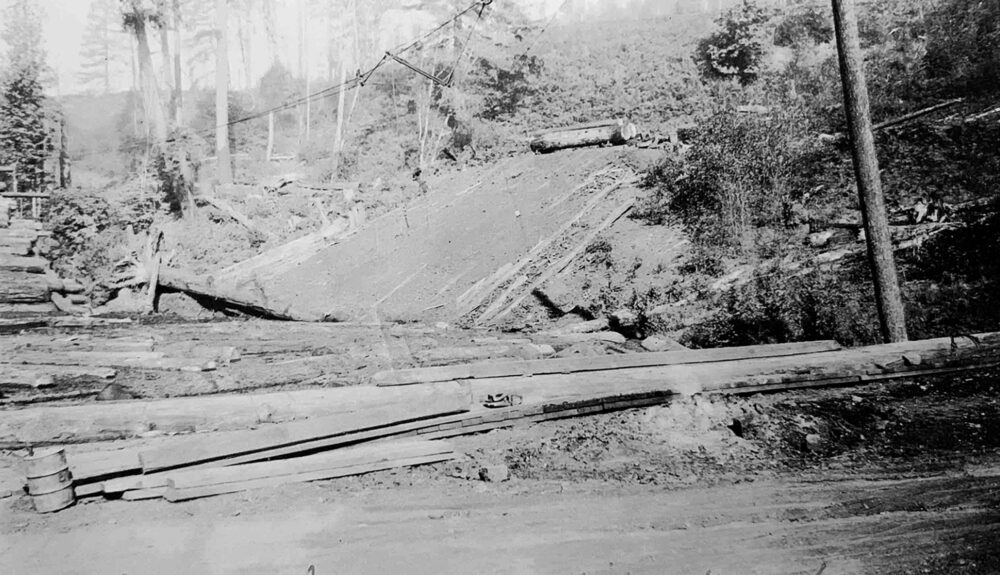 Starting "Small"
Our family owned and operated business was established in 1922 when T.G. Freres was approached by a banker and asked to take over a financially troubled sawmill in the North Santiam Canyon. In 1927, T.G. purchased this water-powered mill from a man named "Small."
This became a more permanent location called the "Ted Freres Camp" where they built a log pond and had their first green chain. They cut 60,000-75,000 board feet per day, made dimension lumber and 8"X17"X30' bridge stringers and ties for Southern Pacific.
When the Going Gets Tough
With the Great Depression in full-force, T.G. took jobs out of town through the Works Progress Administration. With his team of horses, Charlie and Trix, he generated enough income to support the fledgling business. He was working to replace the original slick, plank roads in Newport, Oregon, which later became Hwy. 101, with better surfaces.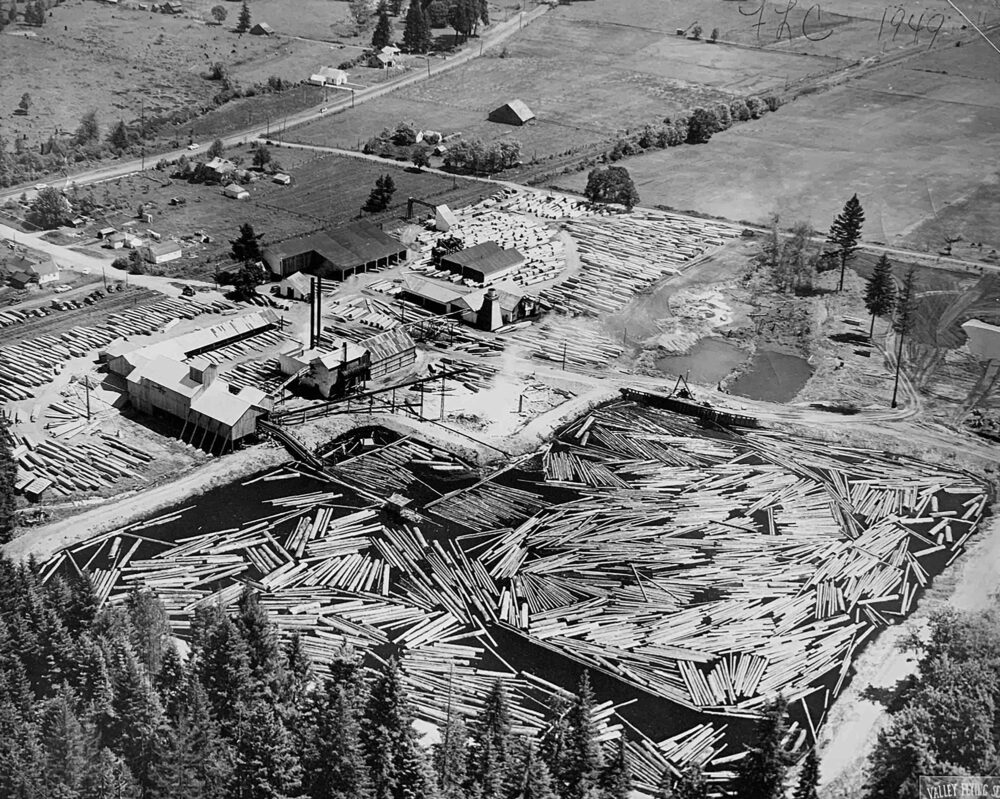 All Roads Lead to Lyons
T.G. became President of Freres-Frank Lumber Co. In 1941, T.G. built lumber planing and loading facilities in Lyons, Oregon. Freres Lumber continued to operate along the North Fork of the Santiam River until the mid-to-late 1940s, when they moved all sawmill operations to the Lyons location. Moving the sawmill operations to Lyons improved accessibility and found electricity.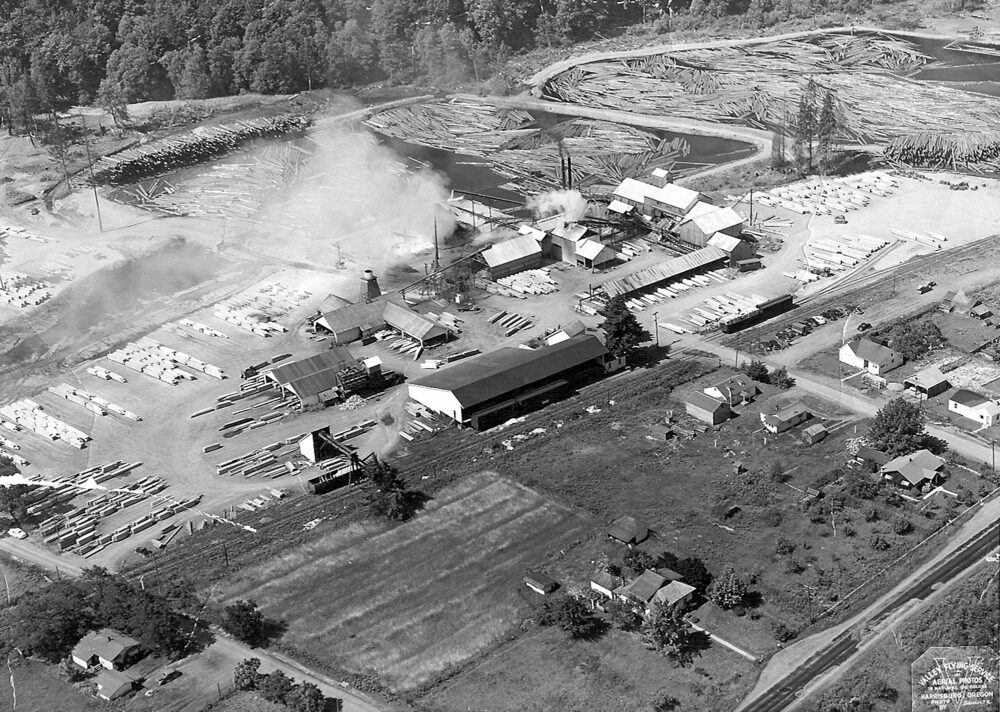 The Dawn of Veneer
In 1951, ​​T.G. bought out Frank's share in Freres-Frank Lumber Co. Freres Lumber became incorporated and known as "Freres Lumber Co., Inc." In 1952, the Freres Lumber Board of directors was established. In 1959, T.G., interested in developing veneer expertise, entered a joint venture with The Willamette Valley Lumber Co. to build and operate a large log veneer manufacturing plant. "Freres Veneer Co." was established.
The Birth of Plant 1
The Company built a small-log veneer plant of its own in 1963 — this would become Plant 1. In 1965, Ted Freres and Amandus Frank equitably divided the Freres-Frank land.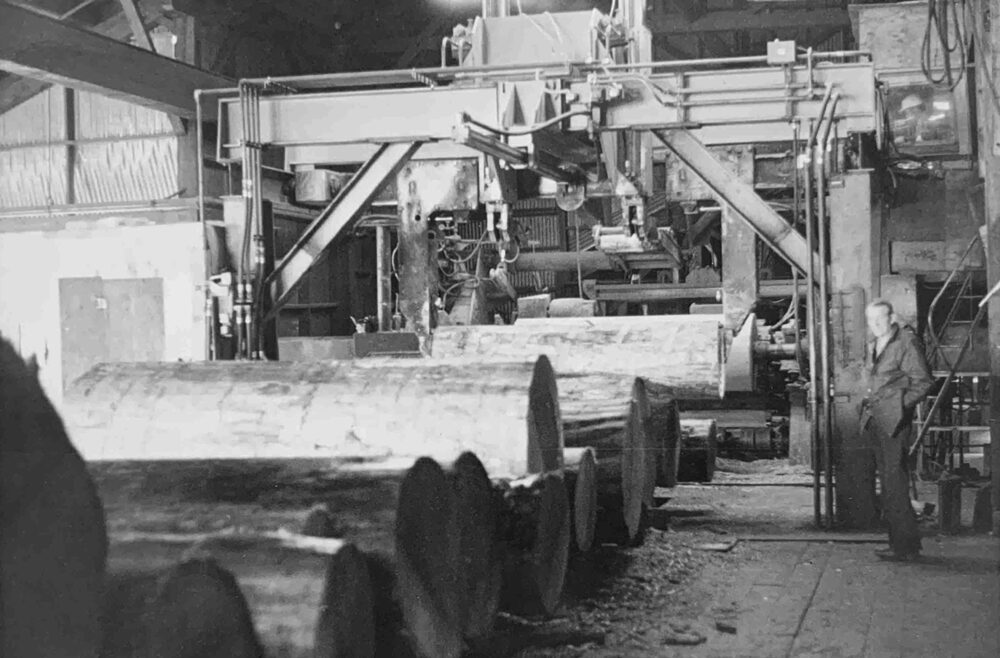 Passing the Torch
In 1973, Bob Freres was named Freres Lumber Company President. T.G.'s youngest son Theodore F. "Ted" Freres started as Vice President at the mill after graduating from Oregon State University. Around 1976-78, Freres Lumber built steam tunnels to more efficiently peel logs. They purchased Mt. Jefferson Sawmill in 1979, TG Freres passed away at age 81. Robert T. "Rob" Freres Jr. started working at Freres Lumber as Vice President.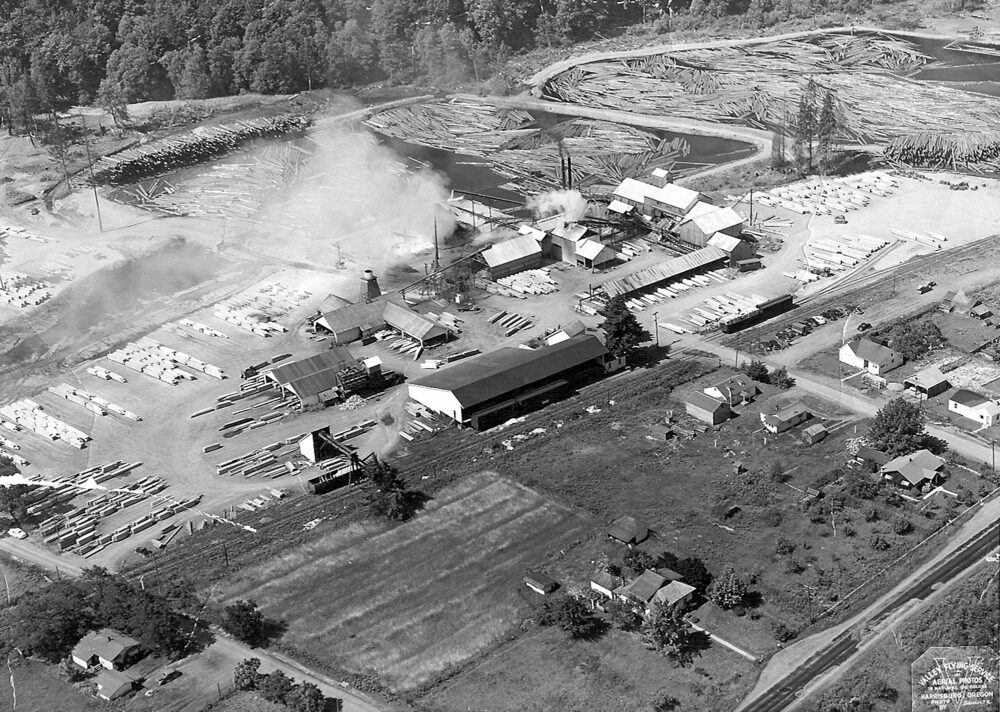 Going Global
Freres Lumber purchased Willamette Industries', formerly Willamette Valley Lumber Co., share in Freres Veneer Co., ending a 21-year partnership. Freres grew interested in expanding into the profitable Japanese market, and in 1985, Freres purchased a lumber and veneer plant from DC Walker Enterprises and operated this facility at Cedar Mill Rd. in Lyons, OR, exporting lumber to Japan.
In 1989, the company purchased a neighboring veneer plant and veneer drying facility. The veneer drying facility is currently operated at the Company's facility in Lyons. In 1988, Freres Lumber formed a veneer sales company, Cascade Forest Products, to expand veneer sales.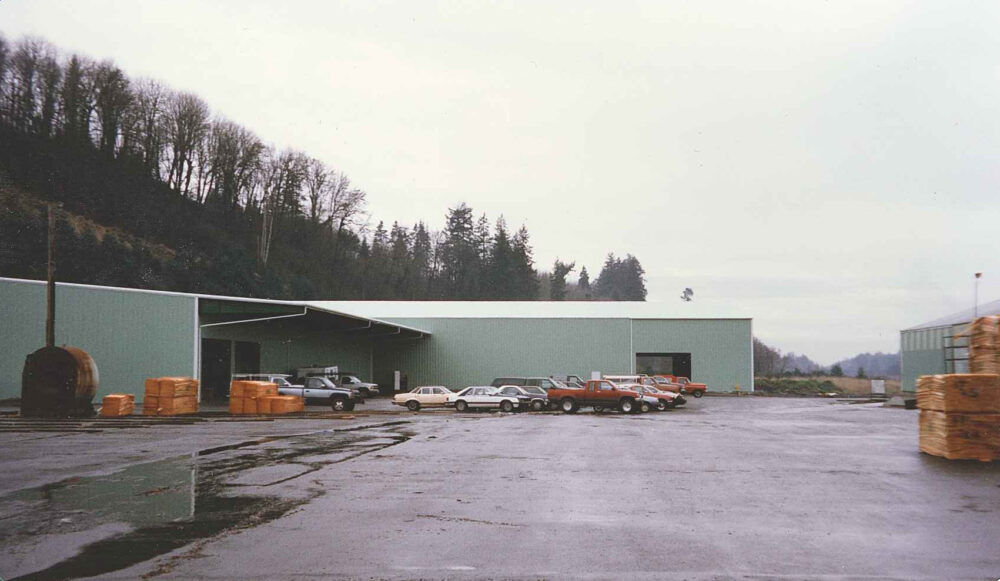 Facing a New Set of Challenges
Freres Lumber purchased McDougle's Linn Veneer facility and began drying veneer for the engineered wood products market. The northern spotted owl was listed as a threatened species under the Endangered Species Act in the Pacific NW, restricting timber harvest on federal lands. In 1992, Freres Lumber shut down lumber and veneer operations at Cedar Mill Rd. due to reduced timber supply from the Northwest Forest Plan. This year, Ted Freres was named President of Freres Lumber Co.
Around this time, the company drained its log ponds. Installation of a portal log crane to unload, rollout, and maintain deck inventory was completed in 1994.
Also in 1994, Freres constructed Plant 4 and installed a new veneer dryer. They operated this dryer concurrently with the second Linn Veneer dryer for nearly a decade.
In 1998 the Company purchased North Santiam Plywood out of bankruptcy in order to vertically integrate operations.
Ted's son Tyler Freres started working at Freres Lumber in the plywood division of the business.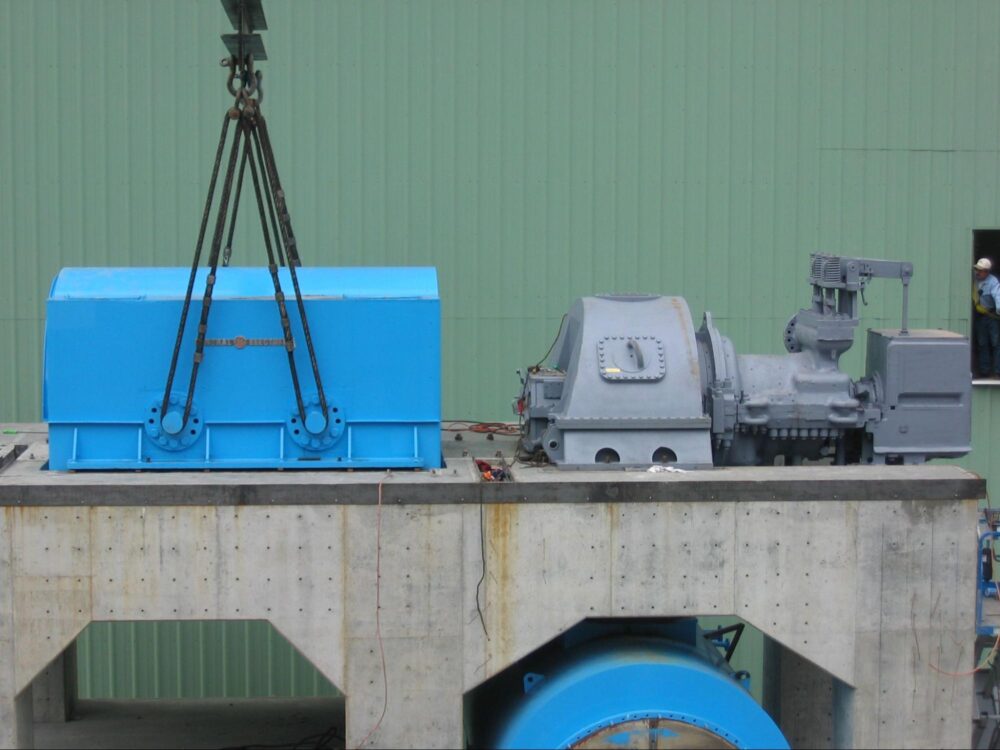 Working Hard, Working Smart
Ted's son Kyle started working at Freres Lumber overseeing operations, information technology and plant upgrades. In 2003, Freres Lumber established Freres Timber. In 2007, the Company constructed a cogeneration facility onsite in Lyons — this would become Plant 5. The facility, named Evergreen BioPower, supplies steam-generated heat to all plant production processes and also supplies the local utility company with enough energy to power more than 5,000 households. In 2008, Freres earned the State of Oregon's Milestone Sustainability Award.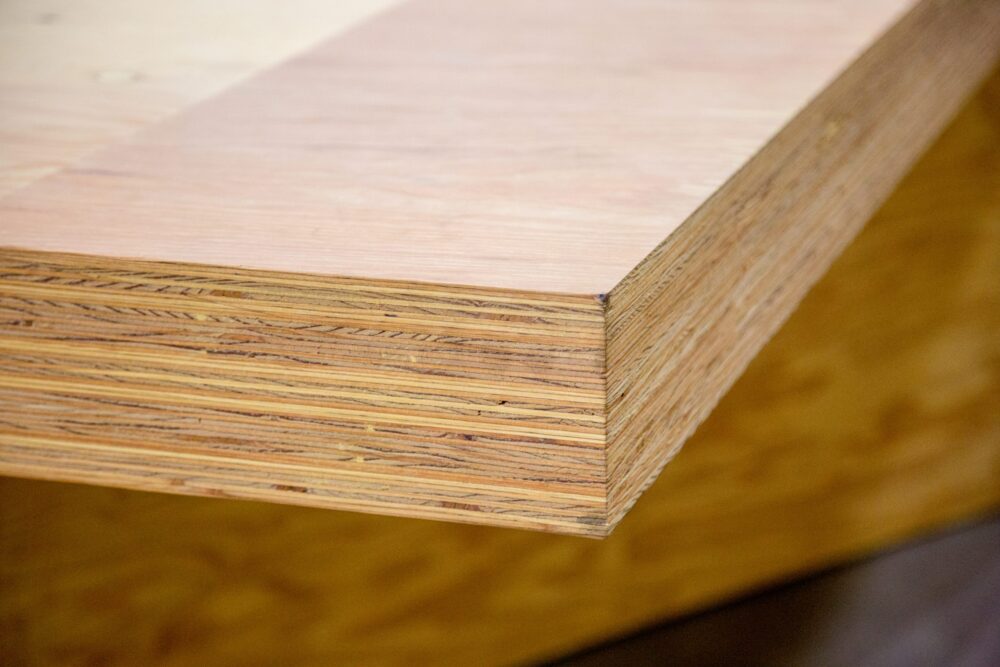 Investing in Innovation
In 2015, brothers Kyle and Tyler Freres began exploring their interest in new types of veneer-based products and technologies. The brothers traveled to Hanover, Germany to tour Cross Laminated Timber (CLT) plants and attend LIGNA, the largest wood products show in the world. In July of that year, Tyler and retired plywood plant manager, Jim Walker, began work on the first Mass Plywood Panel concepts. In October, Tyler submitted a provisional patent application.
By January 2016, the Freres Lumber Board of Directors approved the research and development of Mass Plywood Panels (MPP). Proof of concept panels were created and sent to OSU for verification testing. In March 2017, Kyle served as project manager for the ground breaking of an MPP facility site at Cedar Mill Rd. — this would become Plant 6. In December 2017, ​​the 182,000-square foot MPP manufacturing plant was completed with state-of-the-art equipment and technology, a $36 million investment.
In 2018, ​​Freres received APA certification for MPP under PRG 320 as well as Laminated Veneer Lumber certification under ASTM D5456.
Innovation is our Tradition
We didn't last this long by thinking the same old way.
Being innovative has been in our DNA since day one as we settled amount the towering Doug Firs of the Santiam Canyon. We started out producing lumber and moved to veneer manufacturing in the 1950's to support a burgeoning plywood market. We provided engineered, stress-graded veneer for the Laminated Veneer markets in the 1980's, and purchased our own plywood plant in the 1990's. Today we are the first in the country to offer our latest innovation, Mass Ply Panels. This revolutionary building material is superior in strength, offering longer spans that are more fire resistant and environmentally friendly, than concrete and other materials.