July 2, 2018
One of the best aspects of our industry is how open and inviting other producers are to visitors. It is a fact that in the wood products industry some of our fiercest competitors may also be our best customers, which encourages companies to be open and helpful. Visiting mills can often be the best way to build relationships, learn about new production processes and equipment, and develop partnerships. This is not only true for North American producers, but also foreign producers.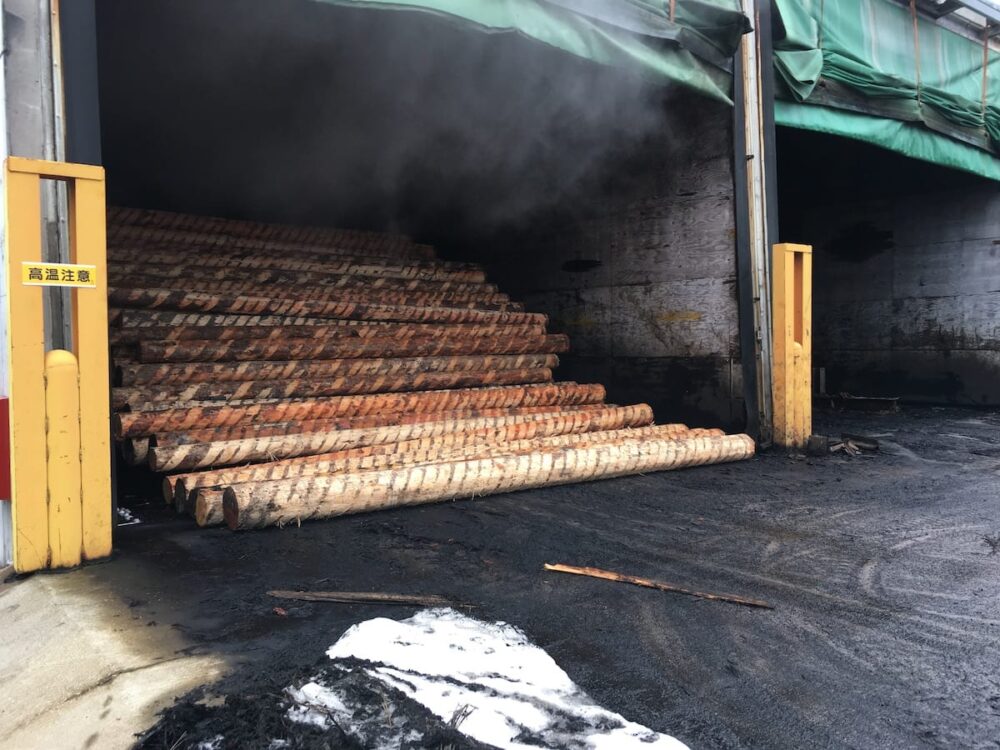 In January of this year, representatives of Freres Lumber learned this first-hand. Invited by Taihei, a Japanese equipment manufacturer, Freres Plant Manager Bill Childress, Chris Harpole our Plywood Maintenance Manager and myself traveled almost 24 hours to Japan for a whirlwind, five-day tour of manufacturing and equipment fabricating facilities. There was much to learn and much to see.
In a production line the magic is often in the small details, but we noticed some large differences between U.S. and Japanese production processes right away. From the start of the production, many of the blocks were conditioned in nominal 12' lengths. A standard metric sheet of veneer or plywood is 1-meter x 2-meter, or about 3' x 6'. Blocks this size would be difficult to handle, so they kept full length and cut in half at the lathe.
Japanese veneer processing lines are not unheard of in the States, and in fact Swanson Group, a local Oregon manufacturer has a Japanese Meinan lathe. These lathes are known for their precision and how few people are required to operate the line. They also have a substantially different philosophy in handling random veneer, which was not only evident on the veneer line, but also in the plywood workstations.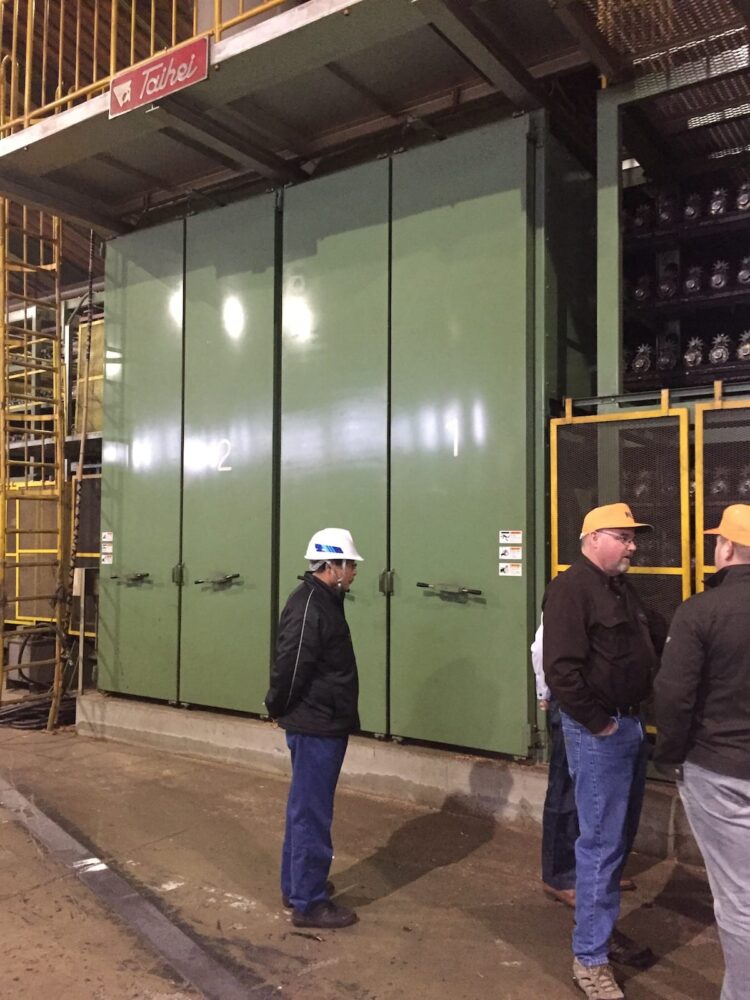 U.S. production on lines typically add the people they need to handle small, random pieces. Japanese producers crowd, stack, and compose the random veneer instead. It varies from plant to plant whether or not random veneer is composed green or dry.
In the States, green veneer composing is being promoted, while in some of the Japanese production facilities that we visited they composed dry random into sheets. Composing is a significant and costly step in the process, but the manufacturers we visited seemed to think it was worth the cost. With the composing of the random, and staging of full sheets prior to spreader layup, they were able to automate core laying and simplify insertion of full sheet layers.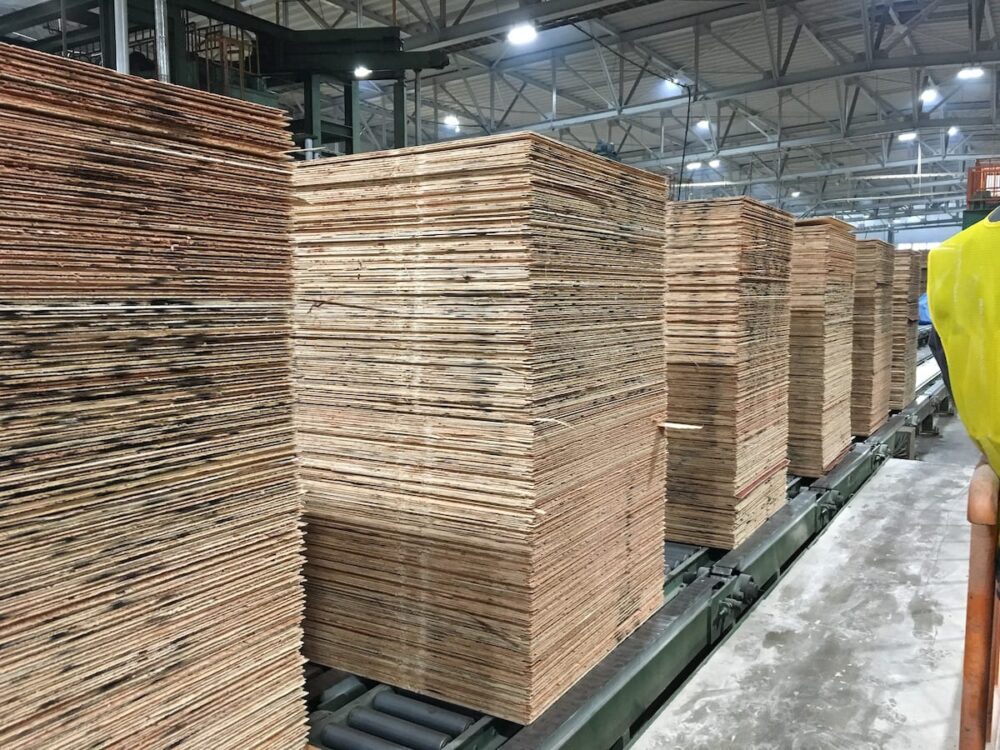 Large 6-deck jet dryers were utilized, and their design was ingenious in their modularity. Modules of dryer rolls could be shipped without chain and assembled in a fraction of the time traditional dryers are constructed.
Out of the spreader units with large piece counts were constructed to feed an amazing piece of Japanese innovation and engineering: the Taihei horizontal press. These presses typically have between 60 and 80 platens, compared to U.S. presses, which traditionally have between 24 and 40. The horizontal presses have numerous advantages, but the most obvious is the lack of a press pit. All press hardware is mounted directly on a concrete slab, while many press installations in the States have press pits as deep as 30'. These become costly installation items and dirty, confined spaces that are difficult to maintain. The horizontal presses also have the benefit of allowing "trash" to fall off the plywood instead of being embedded in the surface.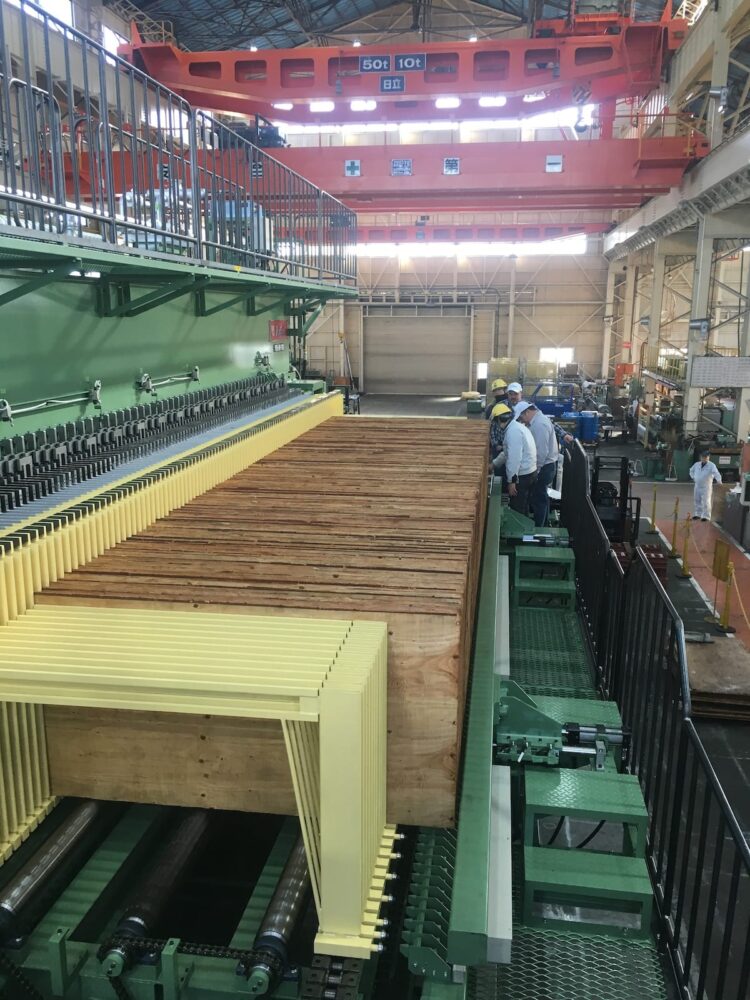 The most important aspect, though, is the fact that you can fit 80 press openings in the area that you can fit a 40-opening conventional press. Considering the fact that most plywood facilities are press-bound, this becomes a significant advantage.
This is not the only innovative equipment. As mentioned earlier, Meinen, another Japanese equipment manufacturer, is producing a green random veneer composer. These composers "tape" veneer together into a continuous 4' sheet, which can be handled efficiently. There are many implications to explore, and this technology may have its pitfalls, but there is also great opportunity to streamline processes using this technique.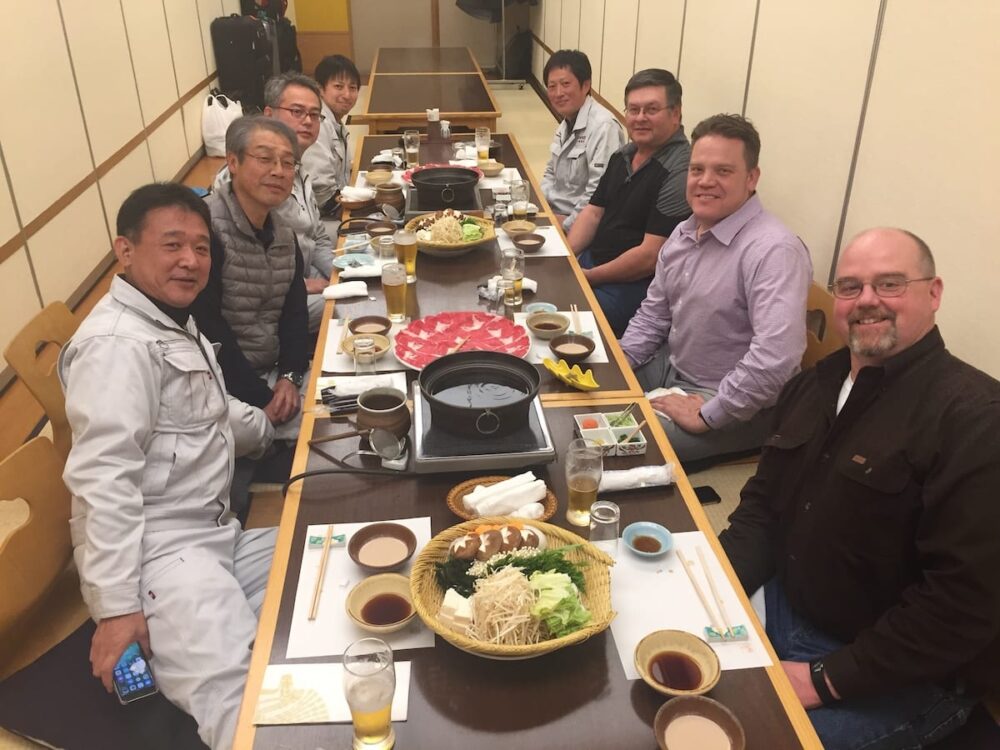 Of course, it is difficult to stop talking about the many educational opportunities we had on this trip, but it must be said that the engineering skill that we witnessed in Japan was only surpassed by the graciousness of our hosts. We were treated to amazing dinners with fantastic company. Although they were worried about what we would eat from the extraordinary array of food that was available, we still had the opportunity to experience Japanese cuisine and hospitality, and it was second to none. A summary of our trip can only end with a heartfelt thanks to Taihei, Meinen, and Nisshin.
Fortunately, we have the opportunity to repay the favor. Representatives from Nisshin, who hosted us during our visit, will be visiting Freres Lumber in August.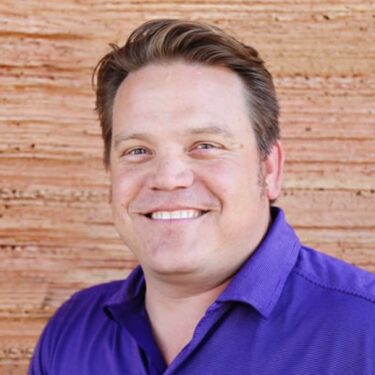 Subscribe
We'll send you a notification when a new story has been posted. It's the easiest way to stay in the know.