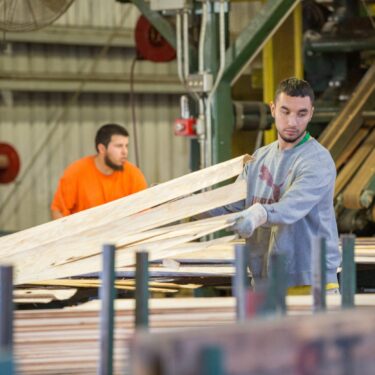 Grading veneer is fast, difficult work which requires pulling, sorting, and stacking green (wet) sheets of veneer according to quality for later use in the plywood and engineered wood manufacturing process.
Job Title

Green Veneer Offbearer

Branch

Veneer Manufacturing

Report To

Shift Supervisor

Schedule

Nine-hour shifts

Status

Full-time

Wage Range

$20.00

Date

Open
Essential Functions
Green Veneer Offbearers pull, sort and stack veneer by quality (grade) and place the different grades into carts. The wood must be stacked precisely as it will be transported to other departments.
Other Responsibilities
Must be able to take direction, listen, learn and work well with others.
Physical Demands
Standing continuously, reaching, lifting, pulling, twisting, turning, sorting and stacking, withstand constant repetitive motion of shoulders, arms, hands, and fingers.
Requires strength and endurance, job is very fast paced.
The sheets are coming back to back on the conveyor, so employees must make quick decisions about which sheets to pull into different carts by quality.
Job requires quick reflexes and the ability to tolerate great physical demands, sheets may weigh up to 40 pounds.
Qualifications
Educational Requirements : NA
Experience Requirements : NA
Benefits
In addition to competitive pay for our jobs, we provide our full-time employees many other forms of compensation and benefits of employment such as: medical, dental, life and disability insurances, a Section 125 (flexible spending account) plan, periodic bonuses based on profits, vacations, holidays, profit sharing and 401(k) benefits
Our Company
Freres Engineered Wood Products, formerly Freres Lumber Co., Inc. was established in 1922 in the Santiam Canyon of Oregon. We are a family-owned and operated wood products manufacturing business headquartered in Lyons, Oregon. Now in its third generation, family management continues to build on the success of past generations.
We operate six processing plants, including a small log veneer plant, large log veneer plant, veneer drying facility, plywood plant, mass ply plant and stud mill in addition to having our own fleet of trucks and a cogeneration facility. We are dedicated to reinvesting in our modern manufacturing facilities, providing high-quality wood products, and providing family wage jobs within our communities. We specialize in creating the highest quality wood products, from raw log to finished products, including: hog fuel, bark fines, chips, shavings, specialty veneer, grade lumber, high-quality sheathing grade plywood, MPP and even electricity.
Our passion for continuous improvement aligned with our innovative approach to manufacturing has led us to develop and become the sole producer of a unique, patented wood product, the Mass Ply Panel. If you have growth mindset and a continuous-improvement attitude, you're probably a great fit for our team!