March 15, 2021
In memoriam of Milton Roten
January 22, 1919 – January 14, 2021
We celebrate the life of Edwin Milton Roten, longtime Freres employee who passed away on January 14, 2021, just eight days short of his 102nd birthday. Roten worked with our company for more than 30 years, wrapping up his career as a clipper operator before retirement.
Roten was born Jan. 22, 1919 in Willcox, AZ, as one of eleven children. He grew up as a cowboy on cattle ranches near the remote town of Klondyke, AZ. After serving in the Army Air Corp in WWII, Roten moved to Oregon in the late 1930s. He made a good living working at Freres Lumber, working here more than three decades until he retired. In 2005, he moved to Willamina to be near his daughter, Barbara, who cared for him in his final years.
Roten was an avid fisherman and hunter, and walked every day for at least a mile, well into his late nineties. He was also a devout Christian who faithfully served in the church as long as he was able. He attended the Willamina Christian Church in his later years.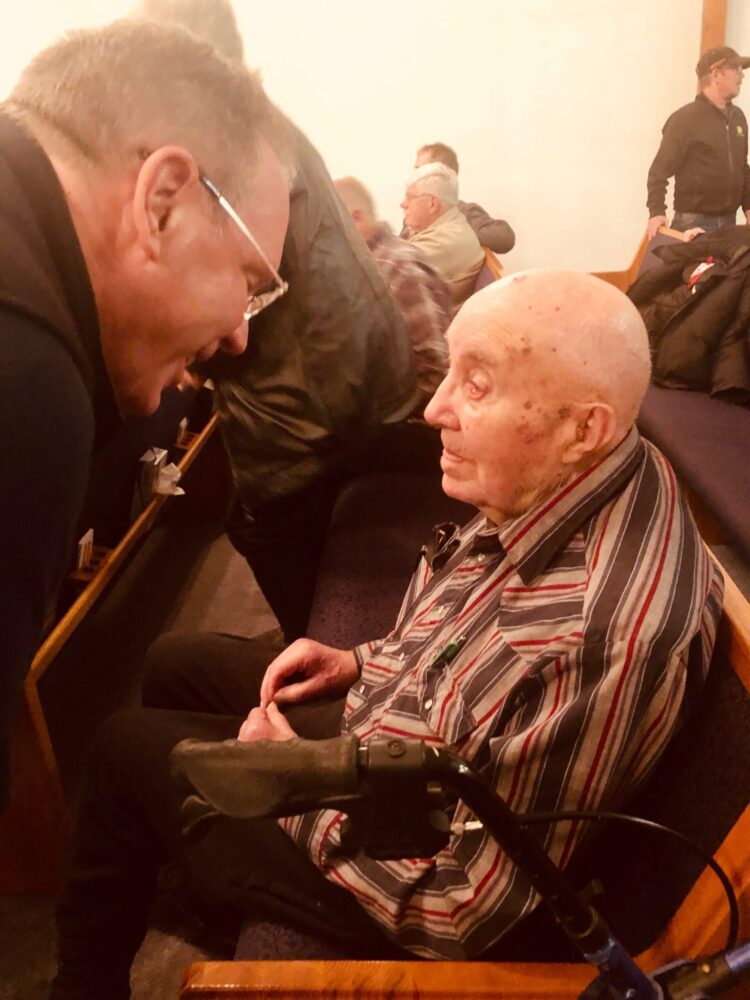 Two years ago, Rob and Jane Freres traveled to Willamina Christian Church to join Roten's family and friends in celebrating his 100th birthday. "The church was full of Milton's friends and family. Five members of Milton's family played Milton's favorite music and well-wishers sang along with the words on a big screen. It was a heartwarming event and Milton spoke fondly of his time with the company," Rob reported.
Roten was preceded in death by his first wife, Florene, second wife, Verna, and nine brothers and sisters. He is survived by a sister, Jane Postel of Ogden, UT; two children, Barbara Morley of Willamina, OR, and Robert Roten of Laramie, WY; two grandchildren and two great-grandchildren.
Edwin Milton Roten's full obituary can be found on Legacy.com.
Subscribe
We'll send you a notification when a new story has been posted. It's the easiest way to stay in the know.