Contractors are using Freres Lumber's Mass Ply Panel in innovative ways as we see Mass Ply construction take off in Oregon and California. The benefits of Mass Ply are apparent in many recent projects such as Project One in the San Francisco Bay Area; and the Meyer Memorial Trust Headquarters and District Office projects in Portland, Oregon.
Project One
Oakland, California
This residential building was our first multi-story project using Mass Ply. Project One in Oakland, California was designed for speed of construction. Scott McClellan with Gurnet Point, along with Clavalo Construction, DCI, Social Construct, and others utilized the prefabricated construction in unique ways. Gurnet Point and Clavalo were able to top out the building in an astounding 24 working days. This impressive four-story building used about 15,000 square feet of panel.
There was no need for onsite storage for stick framing, which enabled them to build a larger building on the lot. Mass timber offers a cost competitive alternative for union projects in the Bay Area as well as a significantly shorter construction time.
Freres Lumber's Computer Numerical Control (CNC) machine precisely cut the intricate shapes for Project One. The sophisticated CNC machine cuts panels exactly needed, allowing for fast construction onsite. Project One used CNC cut through penetration for MEP (Mechanical, Electrical, Plumbing).
Meyer Memorial Trust Headquarters
Portland, Oregon
The construction of the new Meyer Memorial Trust headquarters had a little bit of everything. LEVER Architecture used Mass Ply beams, columns, roof panels and stairs throughout the building. With our standard Dime C finish for the appearance, this project turned out beautifully.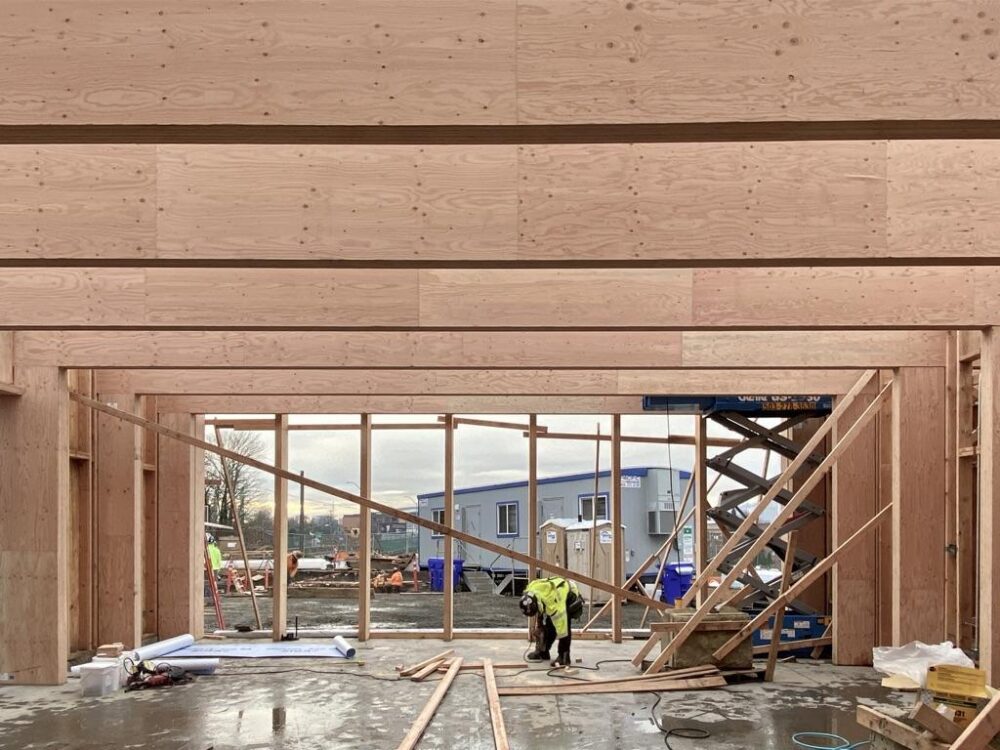 Inside view of the Meyer Memorial Trust beam and columns, which will be left exposed.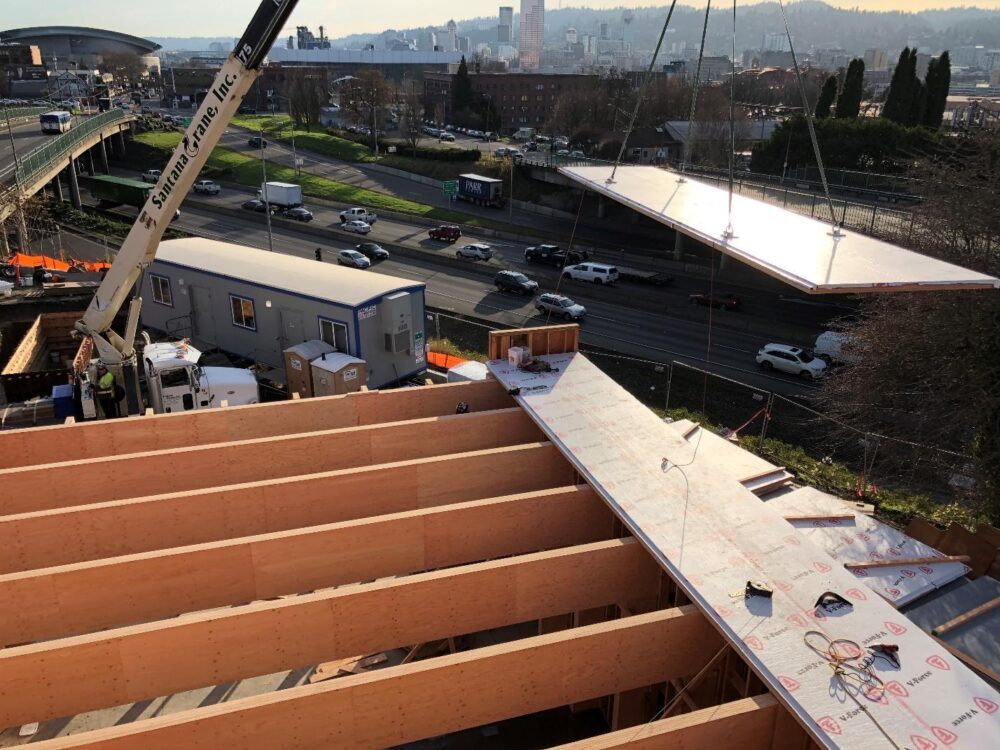 The panel was picked up and the weather barrier pre-installed.
District Office
Portland, Oregon
The stairs at the District Office in Portland were designed by Hacker Architects. The stairs are individual five-inch thick stringers; routed out with the CNC machine and then glued and screwed together. The Mass Ply construction in this project allows you to see the unique end-grain characteristics as you walk up the stairs.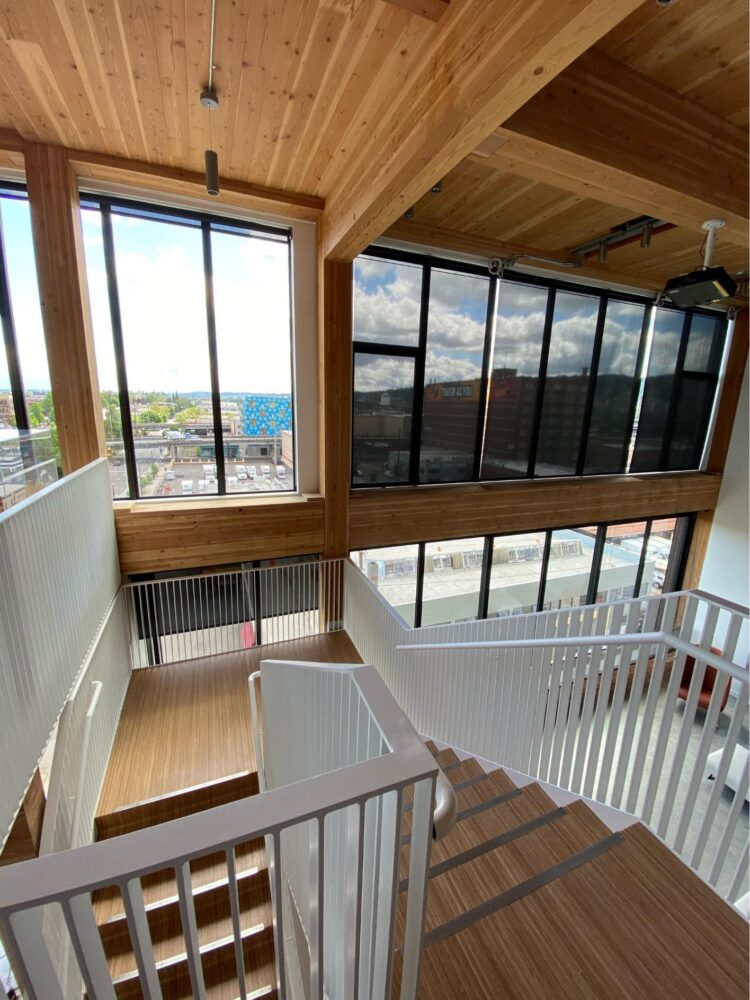 District Office stairs; view from above.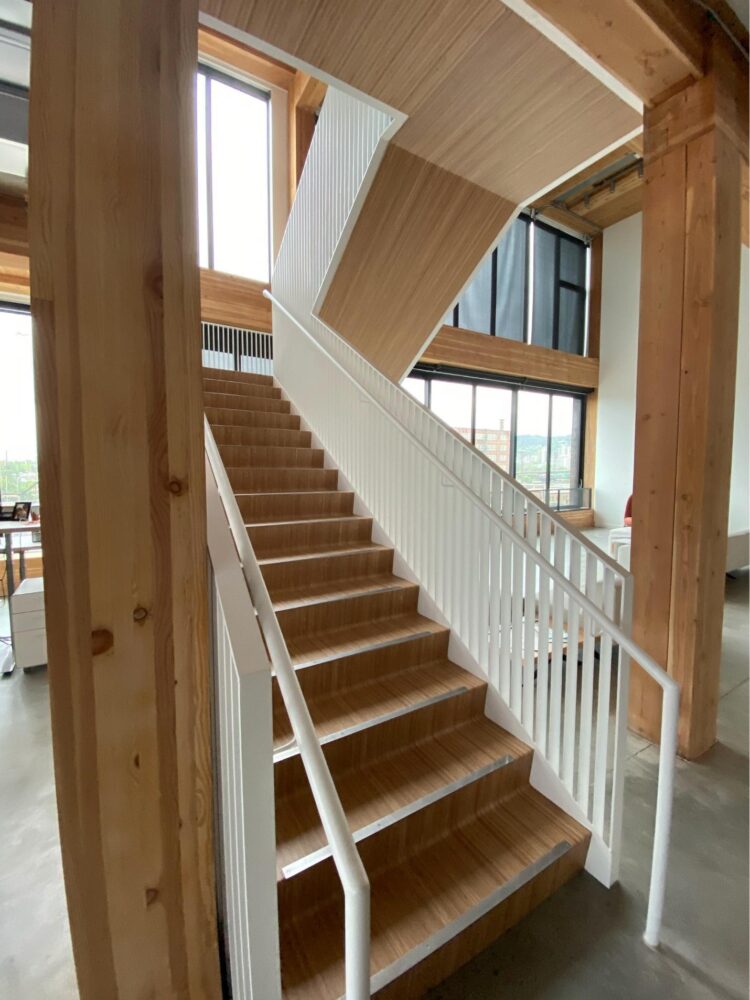 District Office stairs; view from below.
Hacker Architects incorporated the landing as a continuous piece, taking the design outside of our tested data. KPFF Consulting Engineers conducted a full-scale test. It required twice the designed load to be applied for 24 hours to verify the capacity, testing two sets of stringers. One was a "designed thickness" and the other a "preferred thickness," which was a few inches thinner. After the required time, both stringers rebounded back to the original position and passed the test with ease. In the final design, Andersen Construction used the desired thinner section in building the stairs.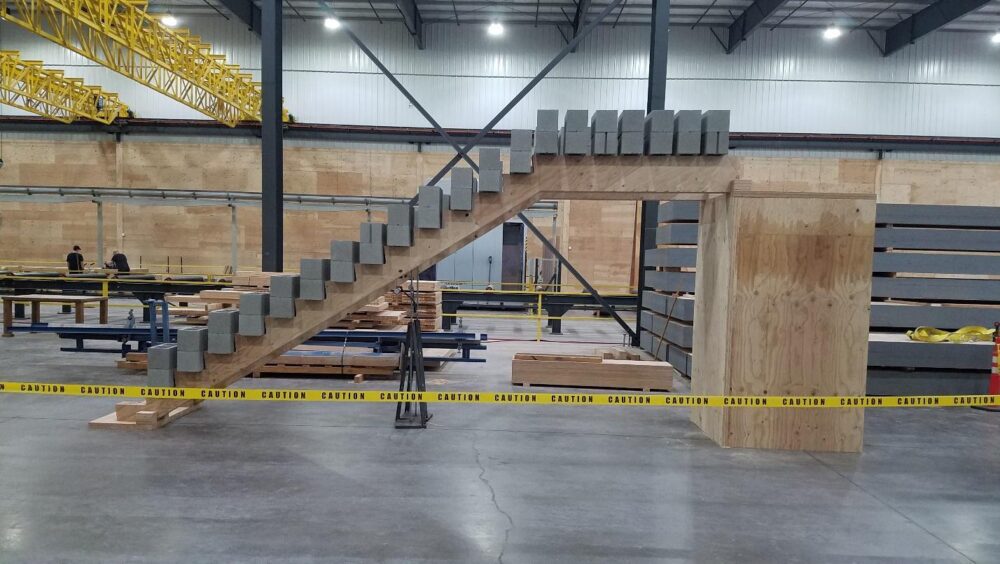 When it comes to current construction projects, Mass Ply continues to rise to the occasion. From staircases to four-story buildings, Mass Ply construction projects are visually appealing and time efficient. We look forward to many more innovative solutions that Mass Ply has to offer.
Subscribe
We'll send you a notification when a new story has been posted. It's the easiest way to stay in the know.