January 13, 2020
The New Year has shown little improvement in the plywood market since December. Plywood sales are still lackluster. It leaves one wondering where the market disappeared to. Have imports and increased OSB capacity really killed off a healthy panel market? Are housing starts of 1.5 to 1.6 million a relic of the past? Are 1.2 million starts our new normal? Log prices remain persistently high which robs Northwest producers of the only avenue we have historically had to maintain working margins during downturns. This truly has been an extremely difficult 18 months in panel markets. The only bright spot is that a strengthening LVL market, coupled with log supply issues in Canada, is leading to tighter veneer supplies and strengthening prices.
Mass Ply Production
However, 2020 brings optimism for Freres Lumber, due to a promising future for Mass Ply Panel. Three years of accelerated investments in our facilities and new product lines are bearing fruit. Our order file at our Mass Ply facility is booked into March, with a mix of industrial products and structural projects. We have quoted so many projects going into 2020, that the entire calendar year would be booked if even 40% of them came to fruition.
These quoted projects are not typical structures, but unique buildings. Architects, engineers, and contractors are figuring out a whole new type of construction before it is even adopted into building codes. If this start for 2020 is any indication of the promise the future holds for mass timber, the future will be bright indeed.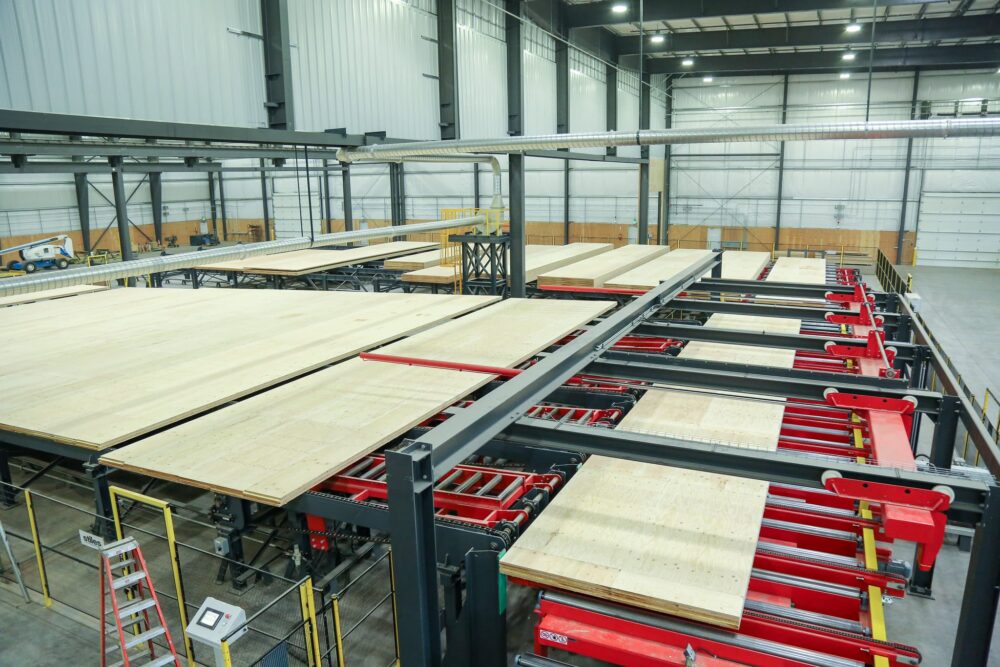 Our customers are telling us where to go, and we are responding to the demand. This January, we changed production schedules at the plywood plant (Plant 3) and moved or added employees to the Mass Ply facility (Plant 6). At the plywood plant, we moved to two layup production shifts which will run ten-hour shifts four days a week. Dryer schedules are being maintained at three, eight-hour shifts. People who worked on the graveyard layup line shift were offered positions on day or swing shift. A shift was added to the new Robotic PLV line to facilitate product moving to the Mass Ply facility. Employees moving to Plant 6 will focus on operating the Scarf-line for two shifts, which will allow us to run press production for a full shift. If we can maintain a full shift of press operation at the Mass Ply facility, it will consume about 30% of the production that would have previously been allocated to outside plywood sales.
Recent and Upcoming Projects
It is worth recounting the effort and investment that have brought us to this point. Constructing the new facility was only the beginning as we look to a promising future for Mass Ply Panel being made more efficiently.
After bringing the facility online, we began installation of the robotic PLV line at the plywood plant and implementing robotic applications at the dryers. While we are still working through the bugs of this unique layup installation, the PLV line is showing promise in its ability to efficiently meet our production needs.
We also recently finished installing the first 60-opening horizontal press in North America at our plywood plant. This single press can handle the entirety of all layup line production and allows us to commit the other two panel presses to the spreader and PLV lines.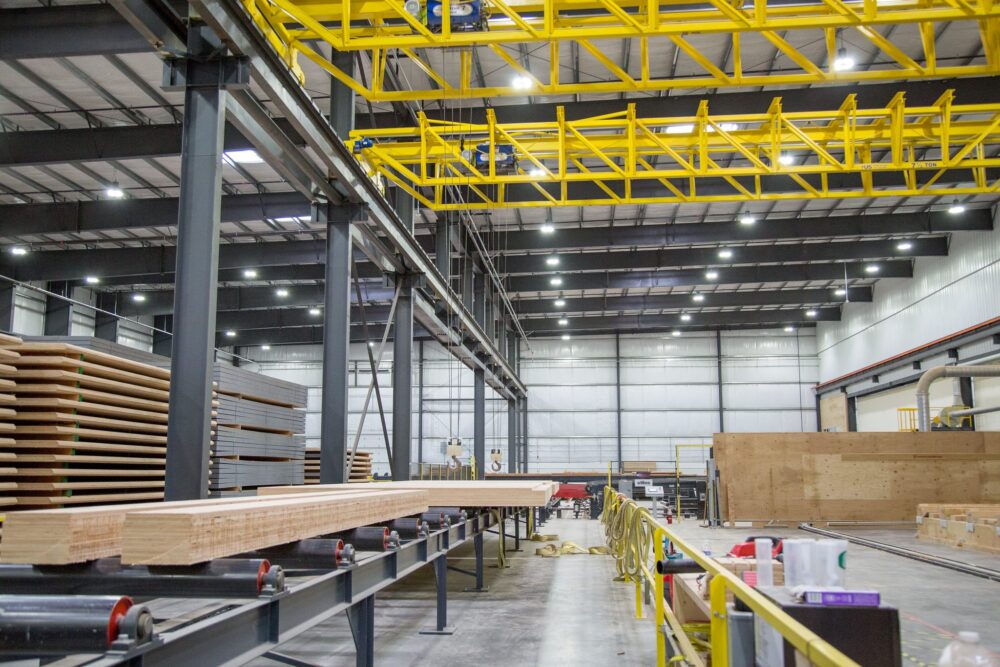 We are in the process of installing a "Beam and Column" processing line to manufacture beams and columns at the Mass Ply facility. This new line will allow us to make every structural wood element in a multi-story structure. We will also be able to make any beam product that has traditionally been associated with glulam beams. Look for this to come online mid-February 2020.
These improvement and expansion projects require the hard work and dedication of lead employees across the company. They also can cause disruptions to our normal operations, so we appreciate everyone's patience. With our new and unique capabilities, the ambitious goal is that Freres Lumber will continue to prosper. As we approach our 100th year in operation, our goal is that the 470 people who work with us on a daily basis will have steady and predictable employment for years to come.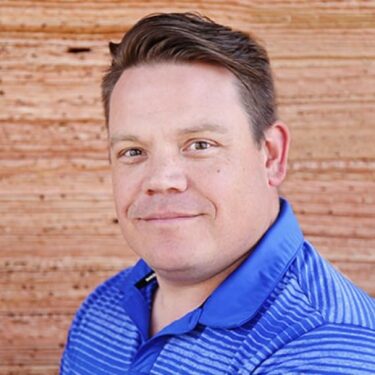 Tyler Freres, Vice President of Sales
Subscribe
We'll send you a notification when a new story has been posted. It's the easiest way to stay in the know.