President Biden recently issued Executive Order 14042 directing all federal agencies to ensure that contracts entered into with government contractors and subcontractors include clauses forcing workforce vaccination.
Contractors
The Executive Order will apply to all contracts entered into with the federal government after October 15th. It requires contractors to ensure 100% vaccination status, does not allow a weekly testing option in lieu of vaccination, and restricts options for religious or medical exemptions. The contract provisions also apply to all subcontractors conducting business with the primary contractor.
Employees
In addition, the Occupational Safety and Health Administration (OSHA) has been directed to develop an Emergency Temporary Standard (ETS) that will require employers with more than 100 employees to ensure all employees are vaccinated. There is expected to be an option for weekly testing under the OSHA ETS as well as religious and medical exemptions.
Freres Lumber is both a government contractor, through Federal Timber Sale contracts, as well as an employer with over 100 employees. The Executive Order and the OSHA ETS will be directly applicable to our operations.
Where we stand
We believe in the vaccines as effective life-saving measures to help prevent hospitalization and death from COVID-19. In fact, we were one of the first companies in the area to provide a vaccination day with our partners at Santiam Hospital. However, we also understand that our workforce is made up of diverse people with different perspectives and opinions, as is most of America.
We trust that our employees can conduct their own risk assessments and make the choice that best reflects their circumstances. We have no interest in delving into the political, medical, or religious choices of our employees. We have no interest in becoming the enforcement arm of the Federal government with ad-hoc authoritarian orders, and understand the undue stress and strain these ongoing mandates and restrictions place on our employees' lives.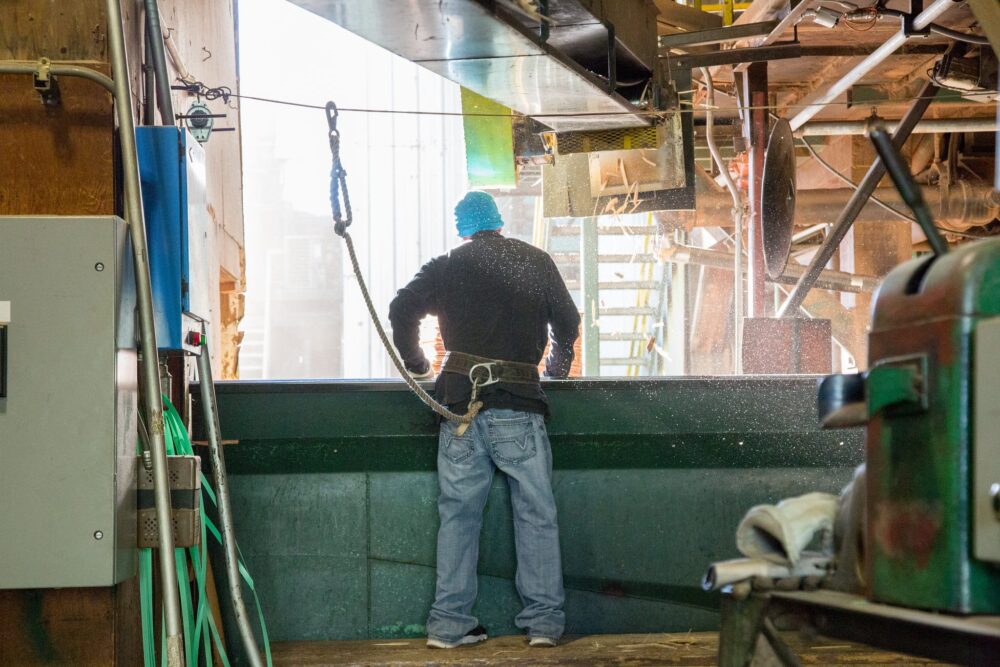 Looking ahead
The Executive Order and the OSHA ETS will likely face numerous legal challenges. We look forward to a rapid determination as to the constitutionality and applicability of these standards. We do not intend to comply with these orders until all legal challenges have been exhausted and they are truly in force.
We must also recognize, however, that should these orders survive judicial scrutiny, we will be forced to comply. We rely on a consistent supply of Federal timber and cannot operate without this raw material supply nor can we incur the ruinous fines that non-compliance could impose upon us.
These orders will have a lasting negative effect on our business and on our workforce and have broader implications for the overall economy, potentially exacerbating existing supply chain issues and delaying an economic recovery.
If you believe that these executive orders, mandates, and directives are overreaching and authoritarian — counter to the principles of freedom and liberty — then the solution is to vote appropriately. We are praying for the continued decline in COVID hospitalizations and deaths and look forward to a return to normal social lives.
Subscribe
We'll send you a notification when a new story has been posted. It's the easiest way to stay in the know.