Tallest Mass Timber Building on the West Coast Rises to the Occasion
Wood is literally on the rise with the tallest mass timber building on the West Coast, at 19 stories, being built in Oakland, California. oWOW, a real estate company with vertically integrated development, design, construction and property management in-house, is challenging conventional thinking by re-imaging the construction process and materials used to provide luxury-quality housing for the "missing middle" in this 19-story multi-family project.
To accomplish its goal, oWOW experimented with various types of mass timber, concrete and steel on a previous five-story project completed in Oakland, seeking to find the most efficient, environmentally-friendly, cost-effective building materials and process to deliver on its vision: "Create Sustainable Urban Living." As a result of the lessons learned on the five-story project, oWOW has developed a unique mass timber construction system to build high-quality housing in less time and at lower costs than its competitors. oWOW selected Freres Engineered Wood's Mass Ply Panels (MPP) for the structural floors of the 19-story highrise, located at 1510 Webster in Oakland. According to oWOW President Andrew Ball, this will be the tallest structure made with Mass Ply products on the West Coast.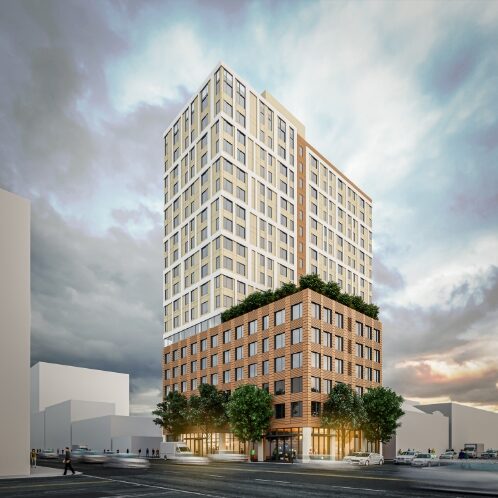 With Freres' MPP, oWOW discovered that they could assemble two floors per week, which is twice as fast as traditional steel and concrete-based construction, significantly reducing both time to market and costs. Building with sustainable engineered lumber or heavy mass timber is less wasteful, faster to build with and more cost-effective than concrete and steel. The panels, which are 40' x 10' x 5" thick, can be set in 15 minutes. That means a 6,000 square-foot floor and ceiling can be installed in just four hours.
oWOW created a very efficient design that will utilize a single concrete core with MPP being built around it. The concrete core will house the stairs and elevators while providing shear loading for seismic support. "After doing independent structural testing in accordance with ASTM 119 standards that proved MPP to be more than two times stronger than CLT, we were able to make several improvements to an innovative, point-supported column connection to the floor panel; the beams were eliminated, saving 21" floor-to-floor; the floor thickness was reduced by 1" and the total number of columns were reduced by 630." Together with these structural advantages, oWOW is working to optimize efficiency throughout their building systems, including rooftop solar energy that will supplement power to an all-electric building.
"We also love that MPP is made in America," said Ball. "Previous to discovering Freres' MPP, we were having to ship in Austrian Spruce CLT. With recent supply chain issues and Freres being in Oregon, we have matched the quality of the Austrian product with MPP and are saving significantly in transportation costs. The MPP we are using for the floors will significantly reduce our time to market and thus the bottom line."
This new building will provide 236 one- and two-bedroom units at a price point that will be affordable for people in the moderate income bracket of 80% to 120% of AMI without any public subsidies, according to Ball.
Photo credit for all photos: oWOW