Robert "Bob" Theodore Freres passed away on November 4, 2019 at the age of 90. He was born in the historic Brown House in Stayton, Oregon on July 20, 1929 to Theodore George and Tresa (Forrette) Freres.
Bob was one of three students who attended Oakdale, a one-room school in Lyons. As a Depression era child living near the North Fork of the Santiam River in a logging camp, Bob remembered his mother heating up rocks, surrounding them with blankets and placing them in his bed to keep his feet warm. Bob's home was also the office to the fledging Freres Lumber Co., Inc. The lumber and wood products business was his life's work.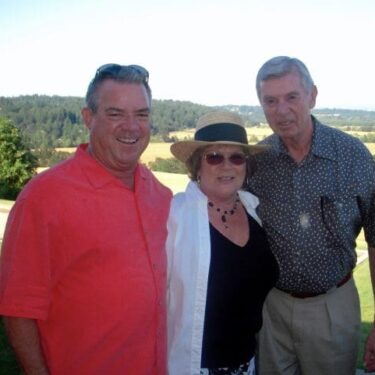 Siblings Ted Freres, Maryann Meredith and Bob Freres
Bob's mother died when he was eight years old. When Bob was 10 years old, his father married Frances (Silbernagel) Freres.
Bob graduated from Stayton High School in 1947 and married Patricia Morgan on November 25, 1948. They had four children, Beckie, Julie, Rob and Leslie. They divorced after 29 years of marriage but remained close until her passing in 2003. He was later married to Judy (Knox) Freres during the 1980s.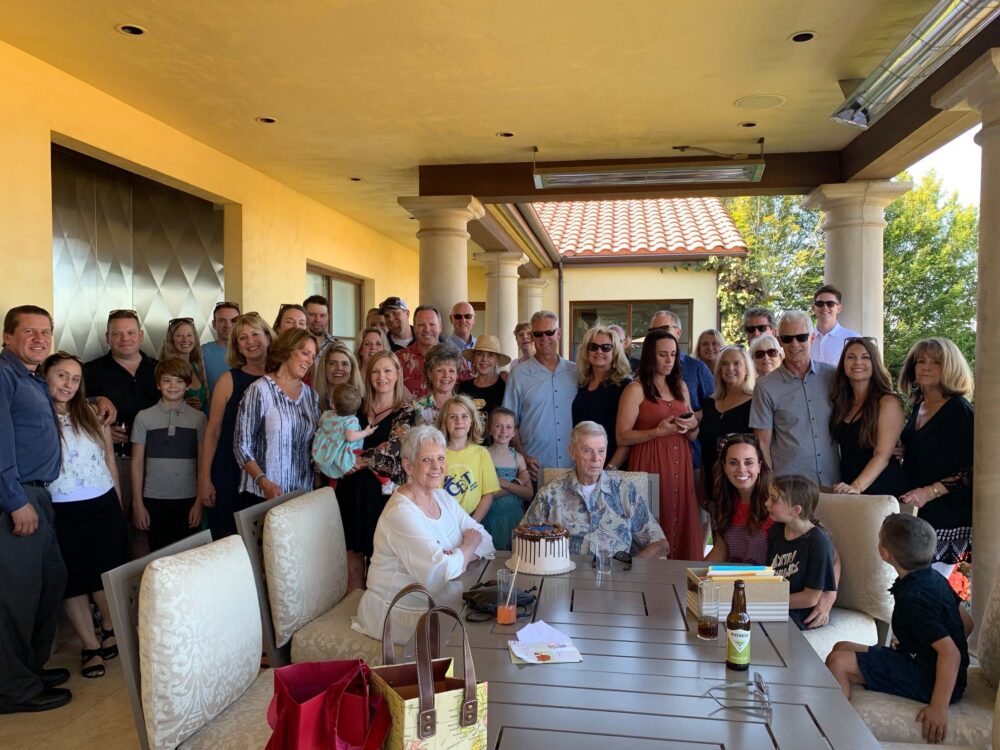 Bob's family celebrating his 90th birthday with him in July 2019
Between 1962 and 1972, Bob endured the loss of three siblings. They were just 24, 35 and 44 years of age. With the loss of two brothers, Bob assumed more responsibility managing the family business. Bob became President of Freres Lumber Co., Inc. in 1968 and Chairman and CEO after his father's death in 1979. Over the past forty years under Bob's leadership, along with his brother Ted, the company grew from two plants to six while increasing employment from 100 to 475 today.
Bob was named Oregon Business Leader of the Year by Associated Oregon Industries. He remains the only lumberman to win this award.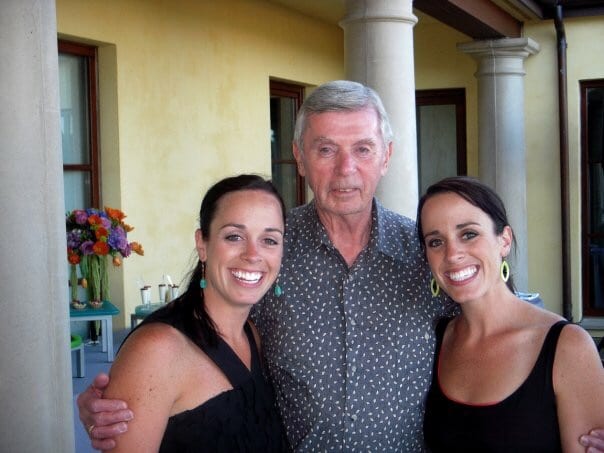 Bob with granddaughters Kerry (left) and Kelly (right)
Throughout his life, Bob enjoyed weekly dinner reservations, NASCAR, wintering in Indian Wells, CA and nice cars. He was well-known throughout the community for his work ethic, his strong faith, generosity and humble spirit. He was well liked and respected by everyone.
Bob was preceded in death by his parents, T.G. and Tresa Freres and stepmother Frances; brothers, Larry, Harold "Bud" and Ted; sister, Phyllis Goodman; and daughter, Beckie. Bob is survived by children, Julie (Paul) Moran, Robert Jr (Jane) and Leslie Freres; seven grandchildren; ten great-grandchildren; and many nieces and nephews. Bob's surviving sisters are Maryann Meredith, Patty (Gary) Nopp, Carol Moll, Joyce (Neil) Merrell and Teresa (Don) McDougall. Bob leaves behind long-time companion, Sharon Gallagher. A special thanks to Shelley Cutlip for her extraordinary caregiving.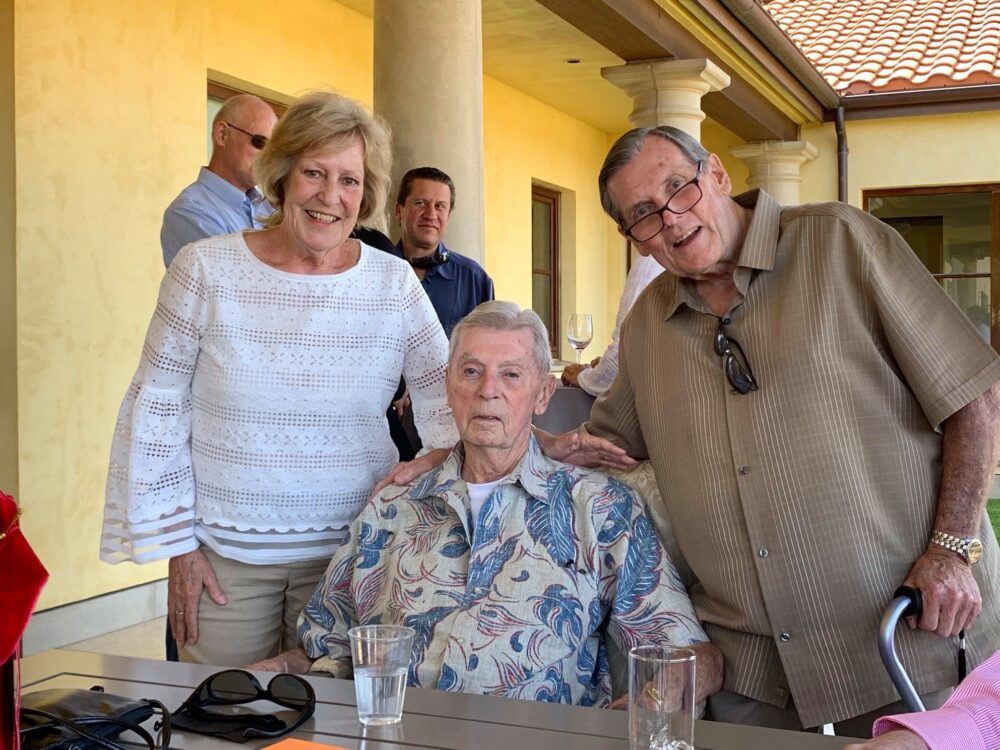 Bob with sister Joyce Merrell and brother-in-law Neil Merrell
The Recitation of Rosary will be Wednesday, November 13 at 7 p.m. at Immaculate Conception Catholic Church in Stayton with the Mass of Christian Burial on November 14 at 11 a.m., also at Immaculate Conception Catholic Church.
In lieu of flowers, remembrances may be made in Bob's name to:
The Regis St. Mary Foundation
520 W. Regis St.
Stayton, OR 97383
Subscribe
We'll send you a notification when a new story has been posted. It's the easiest way to stay in the know.