Labor shortages have been acute since COVID, and have directly affected two essential metrics for a manufacturing facility like ours: productivity and recovery.
Productivity is easy to explain. I'm sure it's patently obvious that if we don't have a crew to run a shift, the chance to manufacture products on that shift is gone. This is the case at our plywood plant, where we are not able to run our graveyard layup shift. What is less obvious is why we wouldn't be able to recover as much usable fiber from a log due to labor constraints.
Recovery is a more complicated concept. Recovery, mathematically speaking, is calculated by the volume of ⅜'s veneer produced, divided by the board footage of logs processed. Recovery is increased by pulling every little usable piece to dry and layup into a plywood panel. While it is relatively easy to automate sorting and handling of full and half sheets of veneer, it is extremely difficult to do so with the bits and pieces. Recovery has driven production decisions and capital investment at our veneer plants for decades.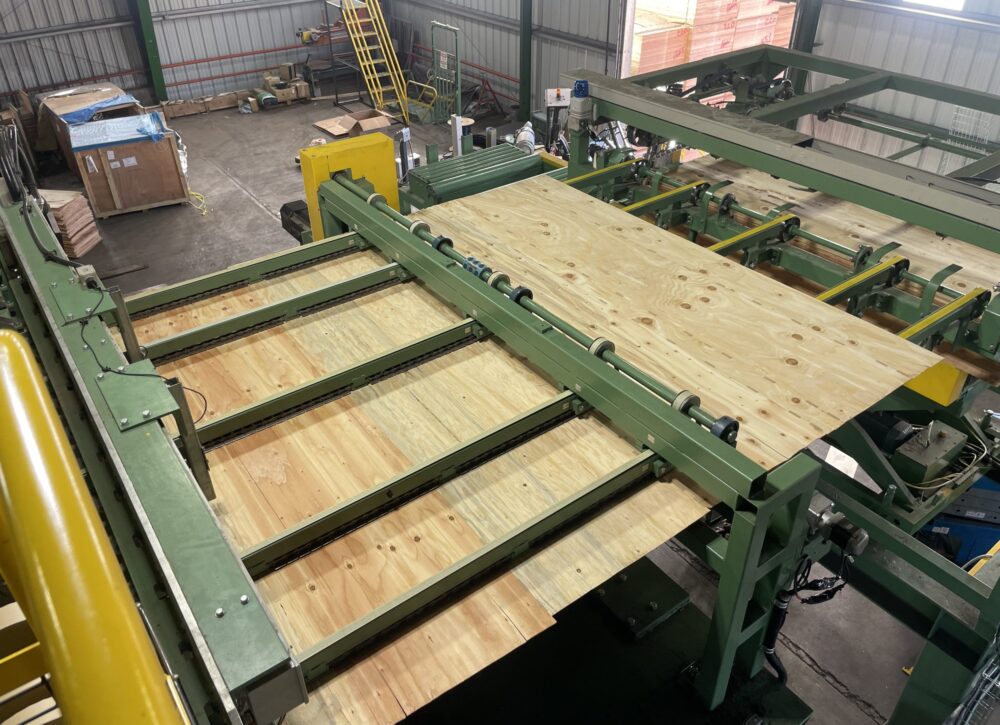 On a veneer line in the U.S. it is not unheard of to have half of your production personnel assigned to handle those bits and pieces of veneer, which equate to between 15 to 20% of your production depending on the type of log you are processing. Half of your manpower handling less than 20% of your production.
The difficulties don't stop there. Even if you had the people to pull that minority share of your production, you need even more hands to move those small pieces through the drier, transfer to layup, and manufacture into a panel. The cheap veneer you recover turns into expensive material to process, even without considering the additional fall down and reduced dryer efficiency. So what to do?
We pay for every fiber of the log that hits our yard, so it's a crisis of our corporate culture of efficiency to let those small pieces get chipped up and sent to paper mills.
Our solution, implemented earlier this year, was to install an eight-foot Meinan composer at our small log veneer plant to attempt recovering those pieces we gave to the chipper out of necessity.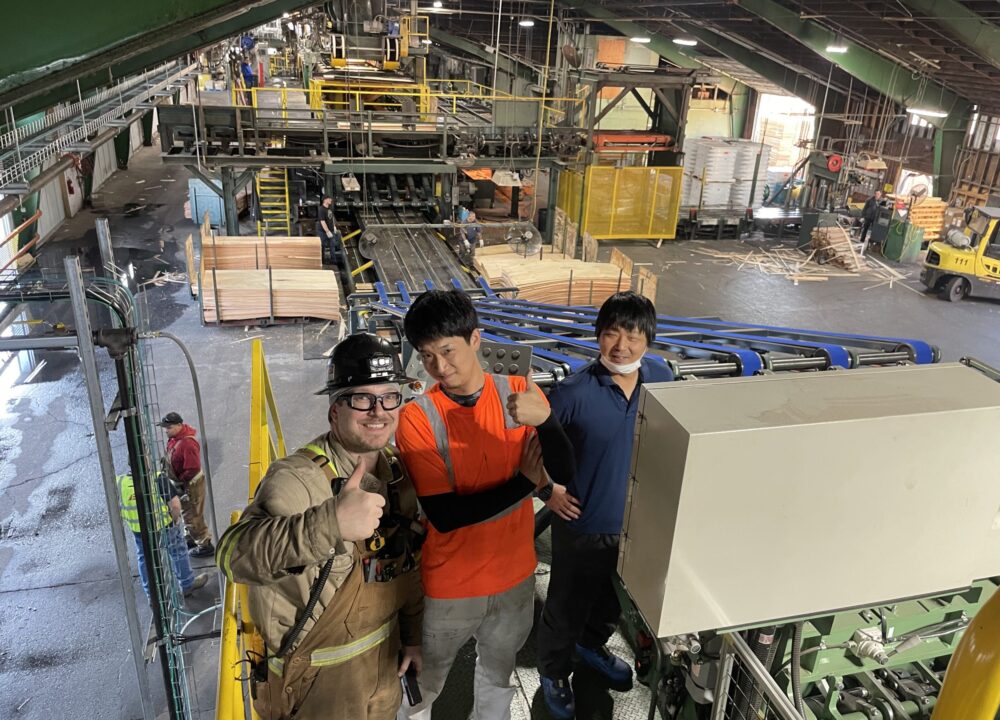 The Meinan composer scans incoming veneer pieces of all types and will clip out the defect. Once the defect is clipped from the strip of veneer, it crowds the pieces together and uses a specially designed tape to connect those pieces together to a full sheet. There is now only one single product produced at our small log veneer plant, which is a CD 54 and in doing so we have recovered the random width strip we had relegated to the chipper due to lack of manpower.
We receive additional benefits down the line, such as improved dryer throughput since we are putting larger pieces through our dryers. Assuming the tape holds together through the dryer, we also get higher production through our layup. We anticipate that processing more full sheets will also allow us to automate more of our processes at our plywood plant to, hopefully, allow us to regain some of the lost production due to our idle graveyard shift.
This is by no means a panacea for all of our issues, and challenging times persist. We continue to work on increased throughput at the composer, as well as reducing falldown of composed veneer at our dryers. With the installation of 8' composers instead of 4' composers, we have essentially given up recovery of fishtail veneer, which is veneer with at least 50% good length that can be utilized as cross-banding in plywood panels. Research and development of systems to automate plywood layup risk misallocated capital while the economy seems poised for a recession.
We believe these labor issues are demographic, generational, and with us to stay; and therefore must be addressed head-on. Though there is risk, there is risk in doing nothing. We believe technological innovation and investment will make us a stronger, more versatile and a competitive company with the fortitude to survive another 100 years.
Subscribe
We'll send you a notification when a new story has been posted. It's the easiest way to stay in the know.