This year marked a significant milestone as we made our debut appearance at the Timber Frame Guild Conference. This annual gathering, set against the stunning backdrop of Keystone, Colorado, brought together more than 300 timber framers, engineers, and timber professionals from around the world for a deep dive into timber framing.
The event kicked off with the Timber Frame Education Conference, featuring an informative pre-conference engineering symposium. Attendees gathered to exchange knowledge, learn from experts, and immerse themselves in timber framing.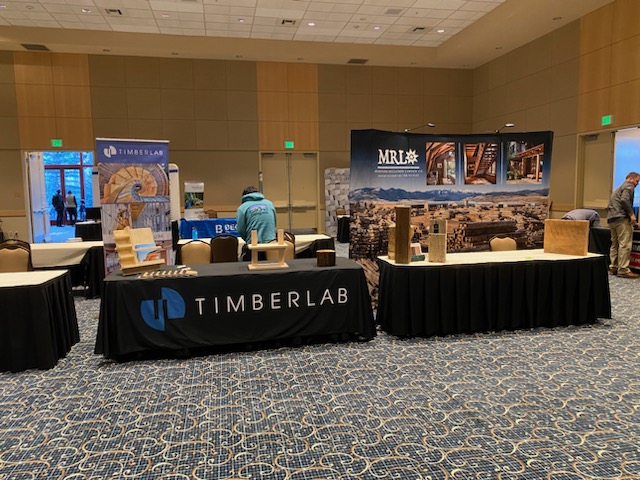 No Timber Framers Guild event would be complete without the customary tour of remarkable timber structures in the area. Led by featured speaker Ed Sure of Timmerhus, the tour showcased impressive homes in Edwards, Colorado, including the remarkable Coyote Lodge. 
This architectural wonder featured an impressive 80-foot clear span timber "barn" within its sprawling 28,000-square-foot private sports complex. It was a testament to the collaborative efforts of architects Kyle Webb, Ed Levin, and Ed Sure, brought to life by Timmerhus. Timber specialist Tim Bickford crafted an astonishing 172-foot long valley snake, and Curtis Milton demonstrated rigging expertise. It was fantastic to see this impressive timber work in person.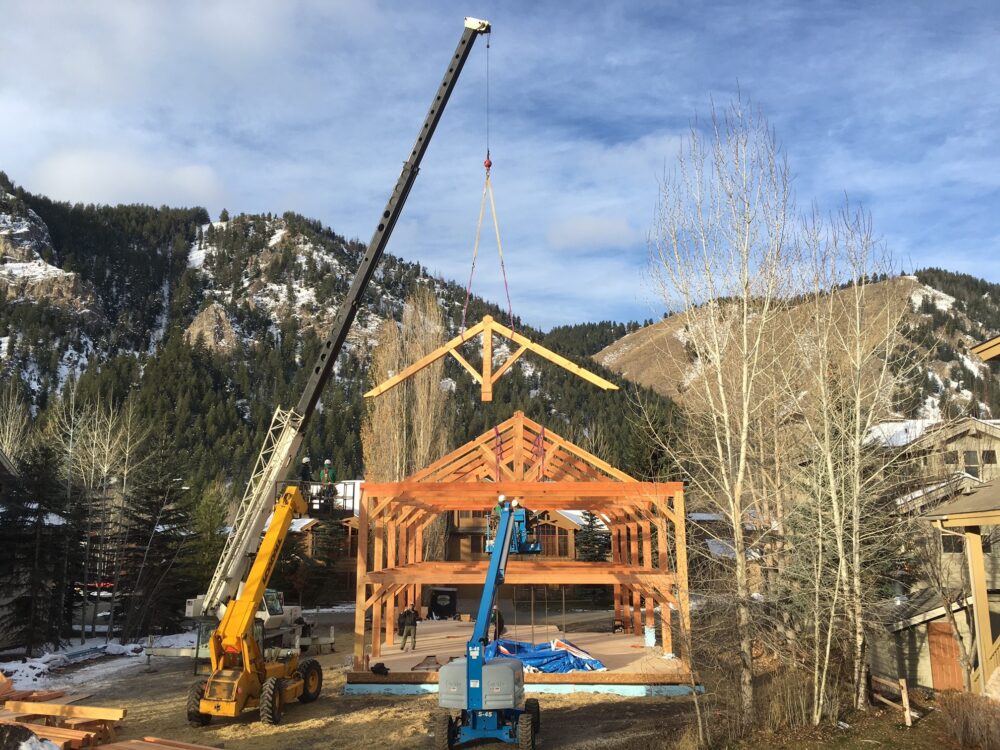 Ethan Martin's presentation was a standout, shedding light on the exciting new tall wood buildings allowed by the 2021/2024 International Building Code, reaching up to 18 stories in mass timber construction (2021 IBC included three new constructions: Type IV-A, IV-B and IV-C up to 18 stories).
The oWow building in Oakland, California, was also a focus — all 19 stories. Located in the heart of downtown Oakland, 1510 Webster will be one of the largest mass timber towers in the world; coincidentally, the structural system is entirely built out of our Mass Ply Panels (MPP).The project will reactivate the streetscape with retail at the ground floor, pay homage to its neighboring structures with a low-rise podium, and provide 236 one- and two-bedroom units in a 19-story tower. The ground floor retail and commercial spaces will revitalize a currently vacant street corner. A covered public plaza filled with public art and greenery creates a place for gathering.
The presentation took a detailed look at the new code provision and methods of addressing the new requirements including additional fire-resistance ratings and levels of required noncombustible protection on actual permitted and constructed buildings.
We were able to talk to attendees and vendors about our latest project at Portland International Airport, focusing on the 400,000 square feet of our Mass Ply Panels (MPP) used on the nine-acre mass timber roof. The Port of Portland recently announced that they have reached the halfway mark in a five-year long airport expansion project. The use of our MPP has made it possible for the designers to mold and shape the PDX Airport roof into its lattice design.
Approximately 1,347 pieces of MPP finished first phase installation. The PDX Terminal Project's 18-million-pound mass timber curved roof supports 49 skylights installed across the roof. An impressive 2,425 MPP parapet panels surround the perimeter of the roof that gives it its unique curved design. Huge shoutout to Laurent from Cadwork, who we had several discussions with on the floor. The more in-depth questions led to the potential of adding true shape nesting to the basic features of the Cadwork software.
We were excited to share that Freres was recently certified by the APA with several new grades of Structural Composite Lumber which can augment materials traditionally used by the Timber Guild which may be difficult to procure or exceedingly expensive. We are now certified for 2.1E and 1.9E material thicknesses up to 24.5" and lengths up to 48'. In the coming months, we will be able to produce material in 1.5" laminations which can more closely match dimensional timber dimensions.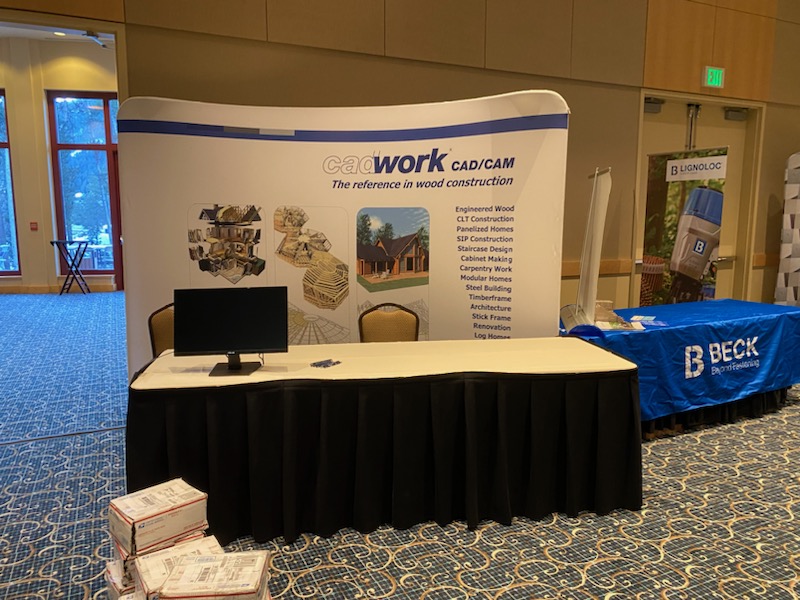 We also shared that Freres can make MPP at the same dimensions as timber, 4×4 to 4×48, 6×6 to 6×48, 8×8 to 8×48, 10×10 to 10×48 all up to 48 feet long. We can create posts as large as 24×24, up to 24×48 up to 48 feet long and eventually up to 60 feet long. These posts and beams are all 8% moisture content throughout the entire piece, making them more stable with no checking or shrinkage after installation, and they retain carbon unlike concrete or steel. The timber framers were excited to learn about consistent density and fire performance as well. We are proud to make large format material out of small logs, and that relatively knot-free appearances are available.
The conference featured speakers, demonstrations, book signings by acclaimed author Azby Brown, and a spirited axe throwing contest. The event also included a joint busting demonstration and a successful auction, raising $35,000 for their scholarship program for conference registration fees and digital Guild memberships.
Participants came together to enrich the timber framing community with their knowledge and history. Describing the experience is challenging, but words like "community," "generosity," and "passion" consistently come to mind.
The Timber Frame Guild Conference served as a vibrant social event, showcasing remarkable achievements and fostering a sense of community. It was more than just a showcase; it was a testament to the enduring love for timber craftsmanship, an embodiment of education, community building, and knowledge sharing. We look forward to attending next year's event in Ann Arbor, Michigan. 
Subscribe
We'll send you a notification when a new story has been posted. It's the easiest way to stay in the know.