Now that the dust has settled, we're excited to reflect on our great experience at the 2023 International Mass Timber Conference (IMTC). From beginning to end, this year's IMTC was an incredible reflection of the energy and enthusiasm within the mass timber industry.
We sponsored the lounge display again this year and, keeping with tradition, we chose to highlight another great use of our product: the multi-span capabilities of our F10 grade. The upper deck is made from our 5-ply (5.10" thick) F10 grade layup. F10 is made by alternating the grain direction with each layer of veneer within the 1-1/8" lamella.
The strength of wood fiber lies in the grain direction, so having 4 cross-plies within each lamella yields a panel that is more evenly strong in both directions of the panel. This means that the F10 layup is versatile when it comes to handling different loading conditions seen in buildings. Corridors, cantilevers, shear walls and point-supported slabs are excellent uses of this product.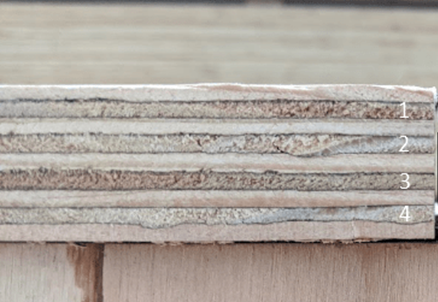 The most exciting example we have is in oWow's 1510 Webster building in Oakland, CA. It is going to be an 18-story, multi-family residential building with a point-supported slab structure using F10 for floor and roof panels and our F16 columns.
The lounge display was a hit with the IMTC crowd. The upper deck of our lounge display gave an excellent view of the show and it was consistently full of happy attendees. We chose to use our upgraded architectural overlay on the columns to demonstrate the option available to those customers looking for a different visual appearance with less knots. The stairs display an economical and beautiful way to cut Mass Ply stairs. They were cut from a single billet, saving on material and on installation costs. Thank you to the Timberlab team for getting it cut for us on short notice!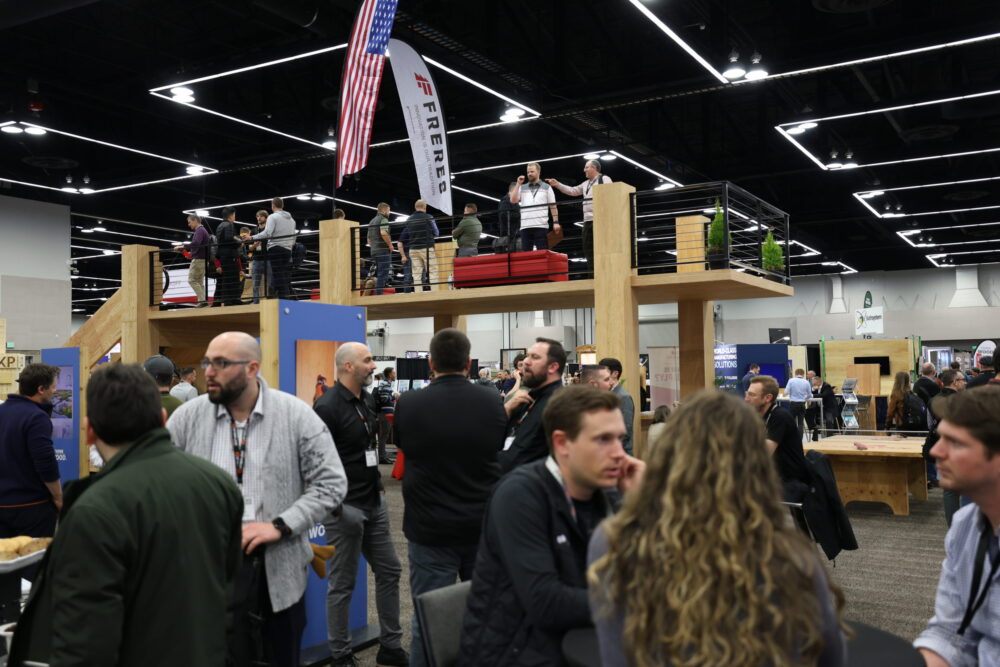 We also included a BRB (buckling-restrained-brace) that we received from the University of Utah. This is a current research project that has promising results: our Mass Ply Lam works very well for a wood-based BRB. This research will further the use of these alternative lateral force resisting systems in high-seismic regions.
Implementing a Mass Ply BRB system within a mass timber building would not only reduce the amount of steel and concrete, it would simplify construction by having all of the main structural elements in a building made from the same material. Manufacturing tolerances of wood are tighter than that of concrete and steel, so the odds of everything lining up at install are vastly improved.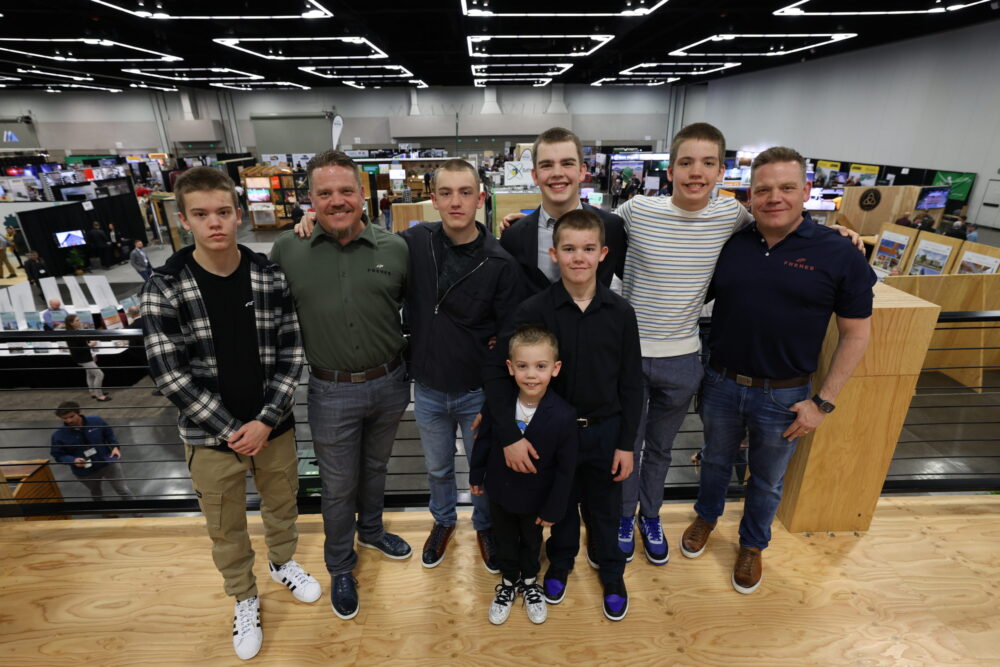 There were many great speakers this year who focused on important problems that our industry is facing. Experts presented on design optimization to reduce costs, forest management and wildfire risks, making mass timber multi-family buildings affordable, and even insurance and financing for mass timber buildings.
The interest in these talks led to many full rooms. One talk that I attended had two overflow rooms of attendees. The Freres project coordinator, Cody Beairsto, gave a presentation on our upcoming new product offerings that will meet and exceed glulam specifications. This will expand our offerings in the Mass Ply Lam line.
Axe-throwing competitions, mass timber installation demonstrations, cocktail hours, ping pong rivalries and good conversations made for a fun week for the Freres team. Thank you to all who came to our booth to learn more about our passion! Special thanks to Kaufman Commercial for installing the lounge display, and Della Shanley at UpStage Events for coordinating and adding the finishing touches.
See you all next year,
Cheers!
Subscribe
We'll send you a notification when a new story has been posted. It's the easiest way to stay in the know.