Rising interest rates are typically disastrous for wood products markets. If you queried most producers at the beginning of the year they would have predicted a strong recession at the end of 2023 and the beginning of 2024. I think we are all pleasantly surprised with the volume of business conducted and the overall strength of the housing market.
The housing market appears to be on a strong footing. The U.S. supply of homes declined 22% year over year to a 7.4 month supply. Sales of new homes increased 24% in June 2023 over June 2022. While home prices declined on a year-over-year basis for the prior 5 months, they rose in July; even with significantly higher mortgage rates. The lack of housing supply and increasing home prices have been attributed to capable home buyers sticking with their current low mortgage rates instead of house hunting in a high-rate environment. The end result is a more consistent and stronger wood products market than we would have otherwise expected.
Plywood sales have exceeded production for the last five weeks. Plywood sales prices have also increased with the additional volumes sold, but there is definitely a sense of caution from purchasers. No one is interested in building heavy inventory positions and are still buying only what they need. This is a double-edged sword as it leads to more dramatic price fluctuations when the market surprises to the upside. The markets are surprising to the upside right now, so it will be interesting to see how this Fall run plays out.
Veneer sales have also been good and steady for the last couple of months. AB is still in strong demand and we are looking to operate on the sales that will yield a higher AB grade out in the next couple of months. LVL veneer sales are good to very good, but not quite off the charts. The feedback we get is that producers are cautious about adding production shifts or labor for additional production until they see a real strong indication that future sales outlook is bright.
Labor is leading to unforeseen problems throughout the production pipeline. The reluctance of producers to add shifts, even with indications of much stronger markets than anticipated, is only one example of the problem. Supply issues get pushed to the start of the supply chain and production elasticity is lost for every producer.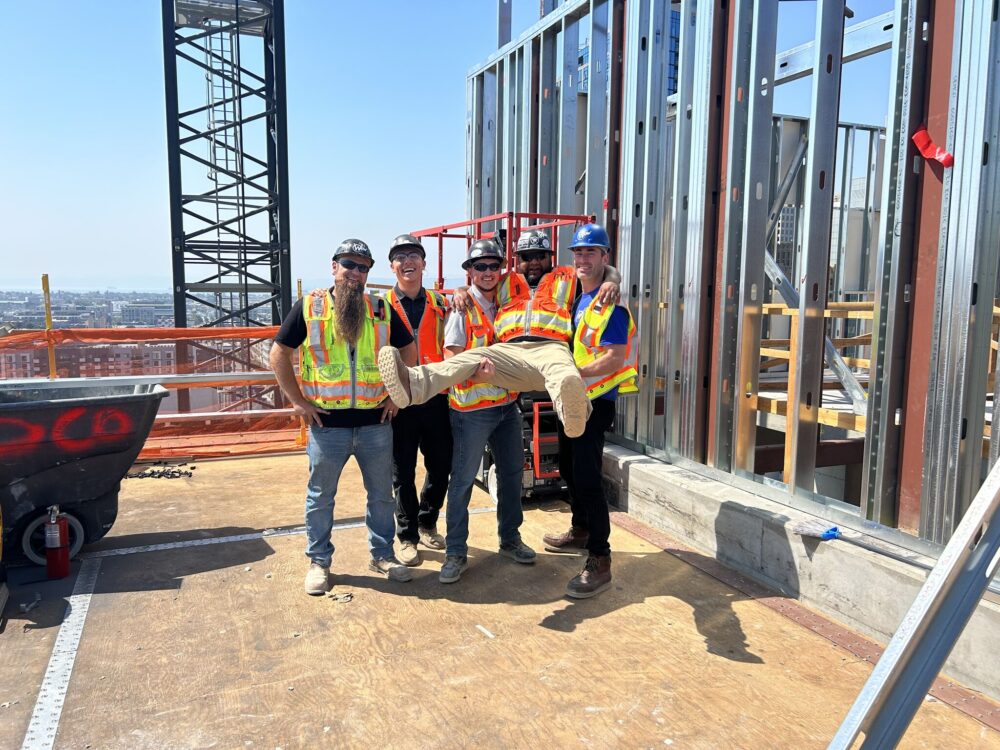 Photo courtesy of oWow.
We topped out our first 19-story all MPP building in Oakland at the beginning of August. We are proud to have been part of this extraordinary project with our partners at oWow. The speed of construction and the efficacy of their building design will help set the standard for these types of buildings in the future. We can now say that our products are in the tallest all-wood structure on the West Coast!
We are hearing from contractors that high interest rates are taking a toll on their project pipelines. We have seen a couple of large projects delayed into next year as they await project financing. That said, there are some very large projects on the horizon. If project schedules commence as our clients intend, it looks like 2024 is going to start with a very full schedule.
Subscribe
We'll send you a notification when a new story has been posted. It's the easiest way to stay in the know.